Rachelle and Jordan married at Stonebarn on 11th December 2019. Their Stonebarn wedding story was recently featured in Issue 20 of Together Journal. Please find the write-up below, accompanied by photos taken by their wedding photographer Emma MacAulay. To read the full feature, please visit https://togetherjournal.com/ to purchase a physical or digital copy.
Shell: I'm a writer and marketer, and Jordan is a TV producer and director. We love the outdoors so it's only natural we chose to host our wedding in Western Australia's beautiful South West.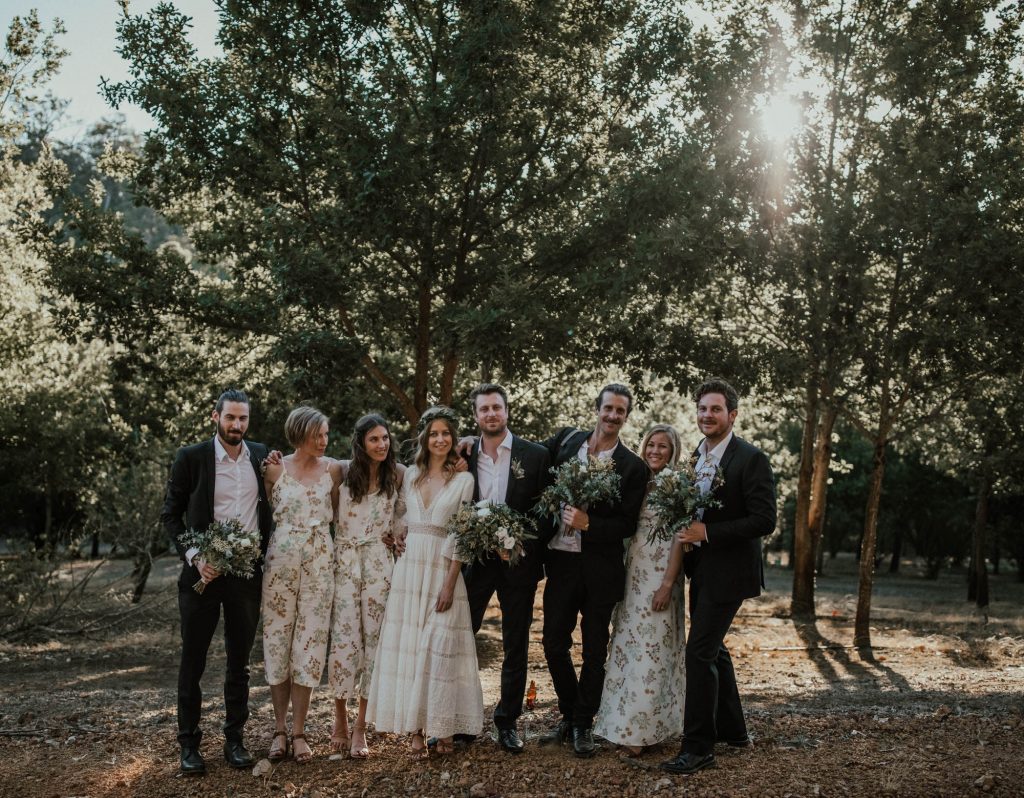 We met back in 2008 in Jordan's lounge. His was the house everyone met at for drinks before heading out on the town. One of my friends (who ended up being one of my bridesmaids) had invited me to come along. There were sparks flying from the start.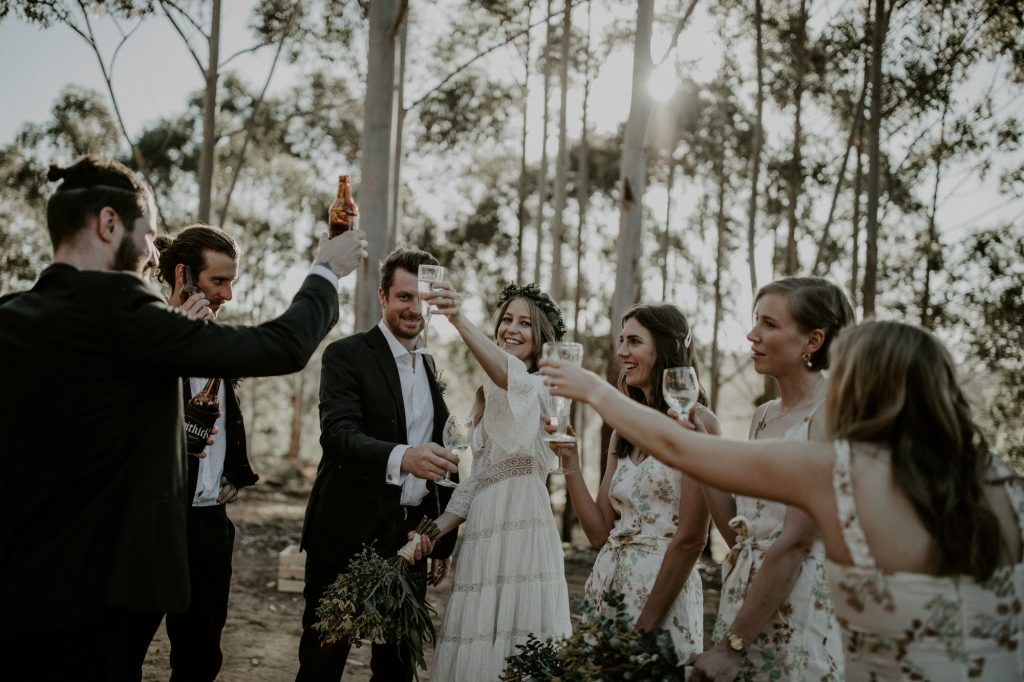 We dated casually and got together properly in 2011. After being together for around nine years, Jordan decided he wanted to propose while we were travelling through Montenegro. He showed me a few rings online "just to get ideas for the future". He had picked a jewellery designer I loved (By Angeline) and ordered the ring that day. He planned to have it delivered from the US to Greece, where we were due to meet his family, but the ring got caught in Customs and diverted back to the US. Returning home to Perth, Jordan was sent on a film shoot for a month. The ring arrived and sat on his desk in the office. When he got home, we took a weekend away in Nannup, and Jordan popped the question during a bushwalk. It completely blindsided me.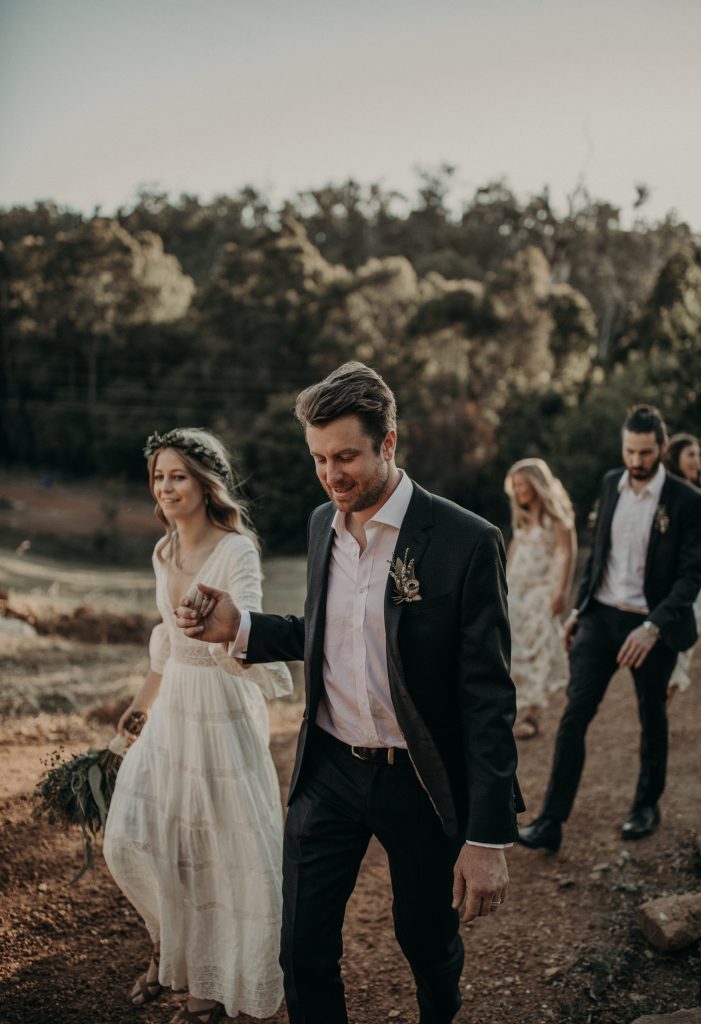 We chose Stonebarn because the property was stunning and had great accommodation, so our bridal party could stay for a couple of nights. We all shared a delicious meal the night before, then spent the day of the wedding setting up together. We kept the styling minimal as the backdrop was already incredible. With the help of our family and friends, we did everything, from setting the tables to remaking posies to suit the old jars and bottles from Jordan's family farm. My grandma and her friends collected everlastings from her garden for our table setting. That was really special.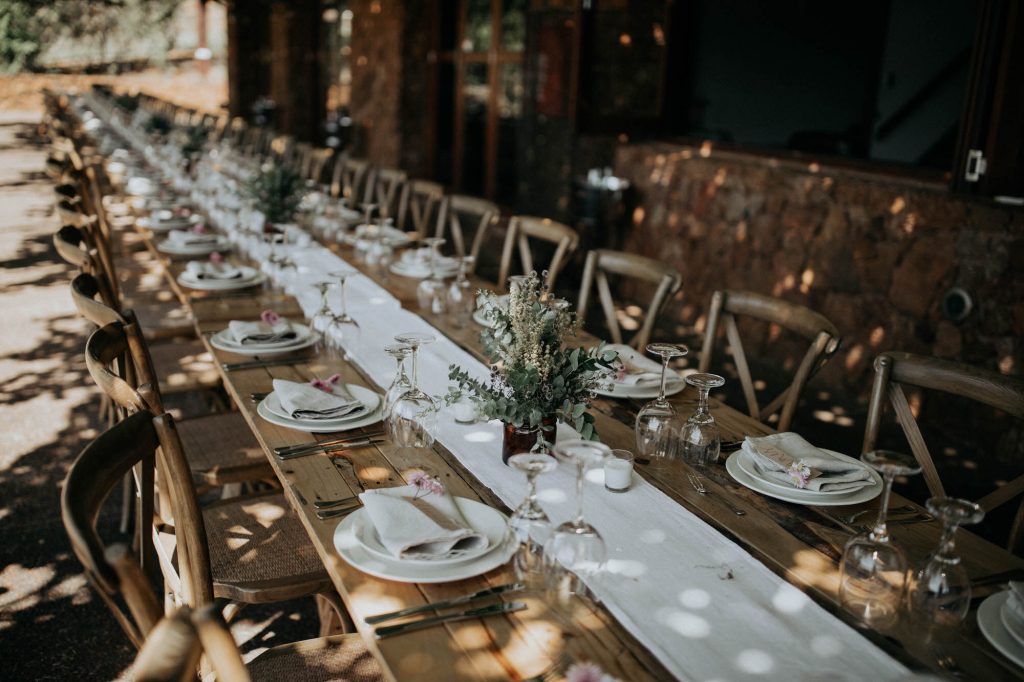 I hand-wrote the place cards, mixed the herbal confetti, made the menus, did my hair and make-up, made music playlists… I loved doing it all!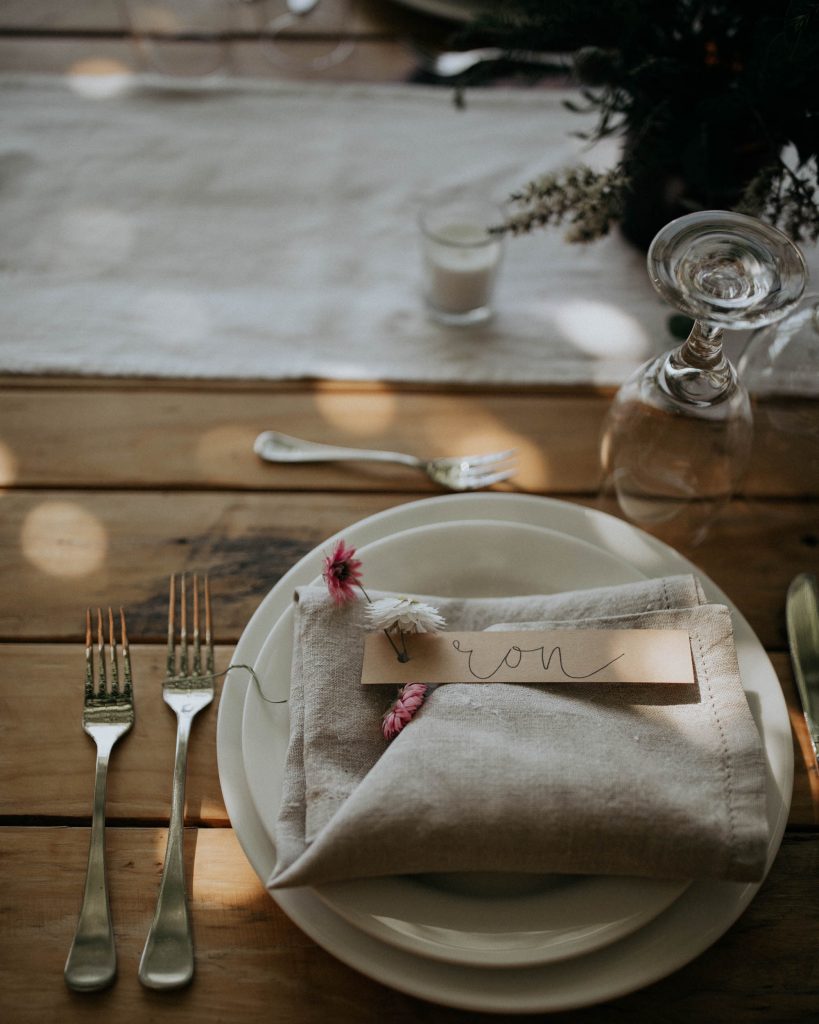 I originally planned to wear a Spell dress from a few seasons ago, but it didn't feel right. Then a few months before the wedding, Spell released another collection. I fell in love with Senorita gown and changed my mind! Jordan purchased his outfit in Poland. We were there for a wedding in 2018 and was best man, so needed a suit. He loved it so much he wore it for our wedding, too.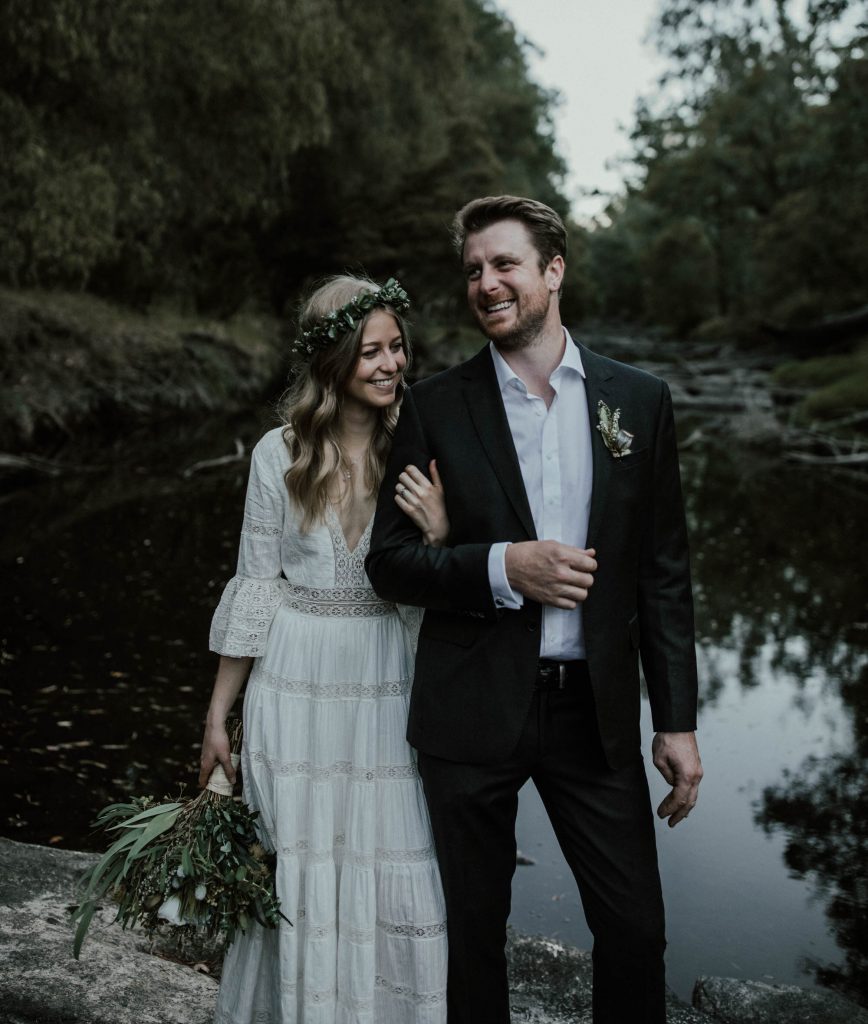 Special moments? When we met under the arbour; it was so surreal and I was super-nervous, which I didn't think would happen.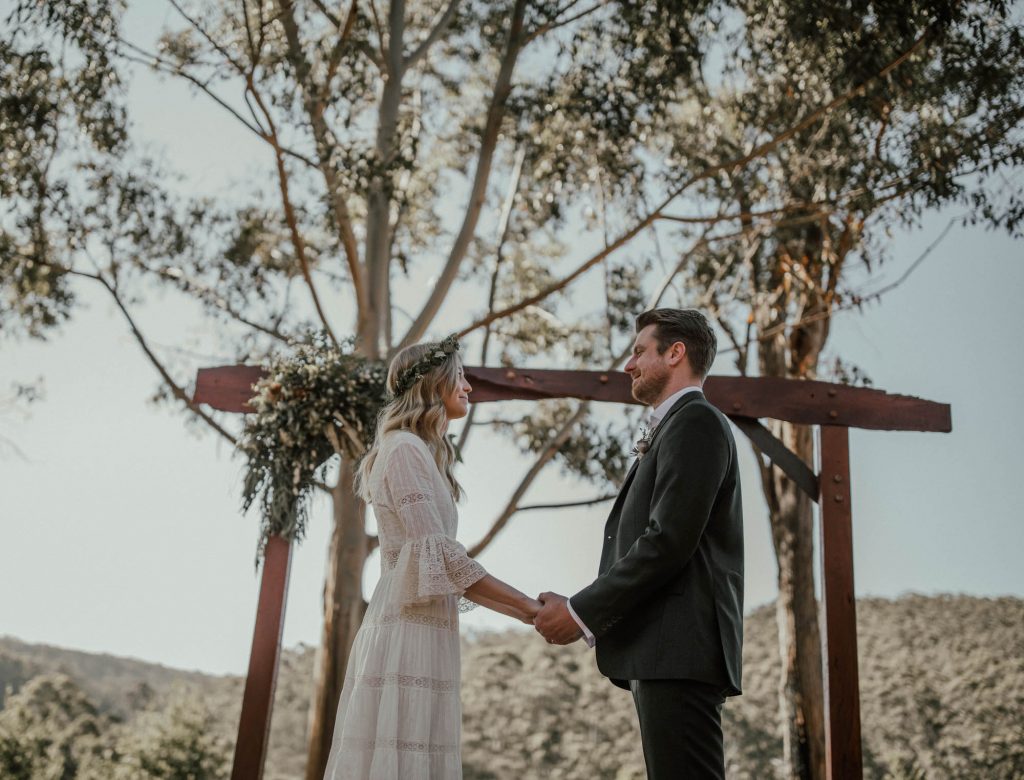 As for 'unique' moments, our MC got the day of our wedding confused and almost didn't make it. He drove down from Perth and had to buy an outfit at an op-shop on the way. But he did the best job at being our MC! What a legend.
Photography: Emma MacAulay Photography emmamacaulayphotography.com, @emmamacaulayphotography
Bride's Dress: Spell and the Gypsy Collective aus.spell.co, @spell
Groom's suit: New Men's Style [Poland]
Venue: Stonebarn stonebarnweddings.com.au, @stonebarn_lodge
Celebrant: Sarah Marlan
Shoes: London Rebel from Famous Footwear www.famousfootwear.com.au, @famousfootwear_aus
Bridesmaids' Outfits: Rove rovedesigns.com, @rovebyronbay
Bridesmaids' Earrings: Izoa izoa.com.au, @izoaaustralia
Fragrance: Marrakech by Aesop (bride), Tacit by Aesop (groom) aesop.com, @aesopskincare
Hire: Red Gum Events [formally Ferguson Valley Events] redgumevents.com.au, @redgumevents
Lighting Hire: Festoon Lighting Hire festoonlightinghire.com.au
Engagement Ring: By Angeline byangeline.com, @byangeline
Wedding Bands: Olil Jewellery olil.com.au, @olil_jewellery
Catering: Flour & Fire flourandfire.com.au, @flour_and_fire