Bree and Taylor were the first couple to marry at Stonebarn this year, their wedding date was 1st January 2020. In this Q&A session Bree shares her Stonebarn wedding experience with us, along with the amazing photography by Smile Designer Photography.
How did you find out about Stonebarn (e.g. Google search, facebook, word of mouth, etc.)?
Taylor and I found out about Stonebarn through a Google search. We were in the South West region for a weekend getaway, and decided to have a look at some wedding venues in and around the Yallingup/Dunsborough region. We were after something that would cater for both our families over a couple of nights, and through a Google search we discovered Stonebarn! We contacted Abbe from Head office in Perth on Saturday (she was so accommodating) and by Sunday lunch time we were just outside of Manjimup driving towards Stonebarn for a site look!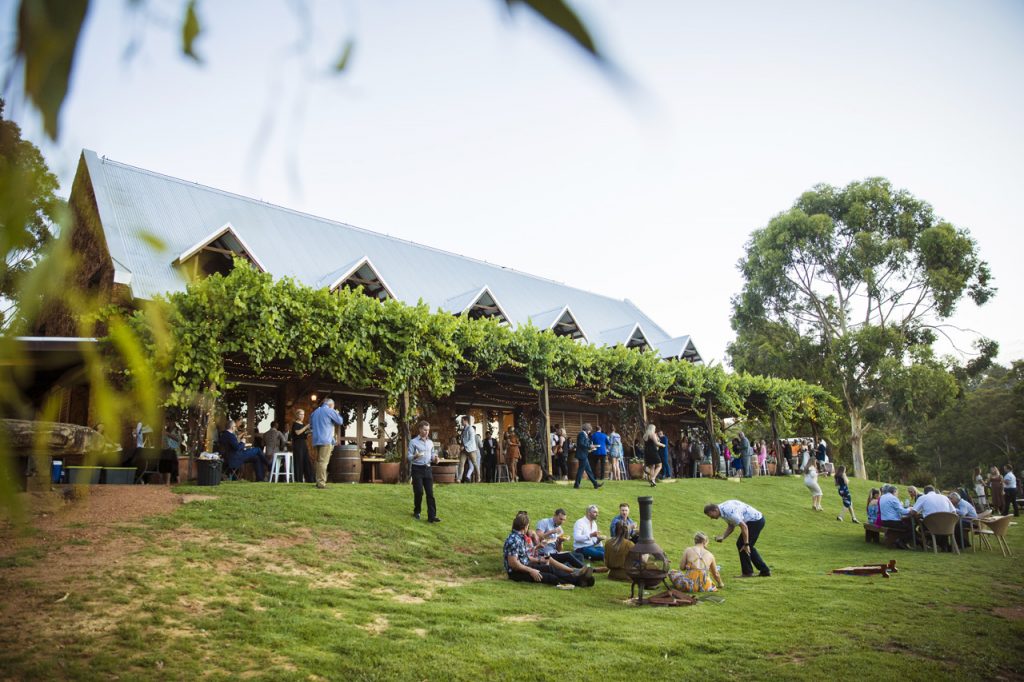 What made you chose Stonebarn over other wedding venues?
We found it a very easy choice. The lodge was beautiful. It had everything. Accommodation, a huge kitchen, plenty of space, a gorgeous grassed area overlooking the dam, extra bedrooms in the apartment, no curfew – basically the freedom to plan our wedding day the way we wanted.
Not having those restrictions – such as, turn the music down, be out by a certain time, have to use this caterer or this florist – meant we could save money on the day and create a wedding that suited the both of us but more importantly cater for our families and guests in a truly unique way!
I should also mention, that we didn't need to decorate much at all. The venue was so stunning, it has everything you need there!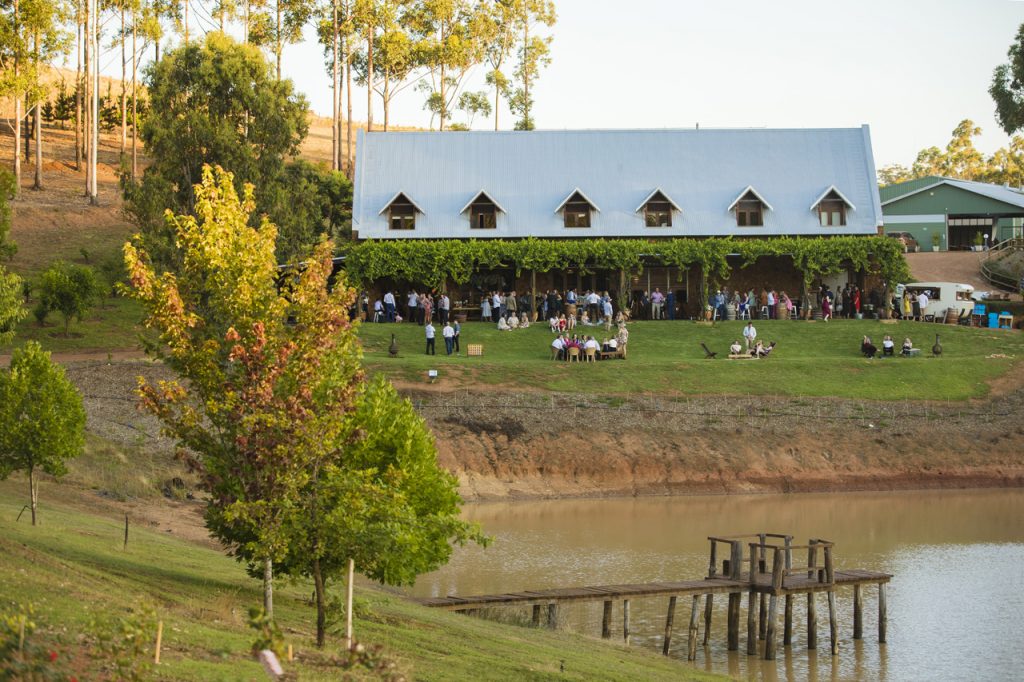 Which wedding package did you have?
We chose the midweek package. We got married on New Year's Day, 1st January 2020. As there were no other bookings we were able to extend our stay, checked in on Monday and out on Friday. It was absolutely fantastic. Having the whole week down there with family and friends dropping by was something we will always remember. The whole week was still cheaper than a weekend package (two night stay) in the southwest region.
Did you travel down the day before the wedding?
Taylor & I travelled down Monday morning, arrived by 8am. Our wedding day was on Wednesday, so we had two days either side to set-up, get ready and pack away. It was ideal!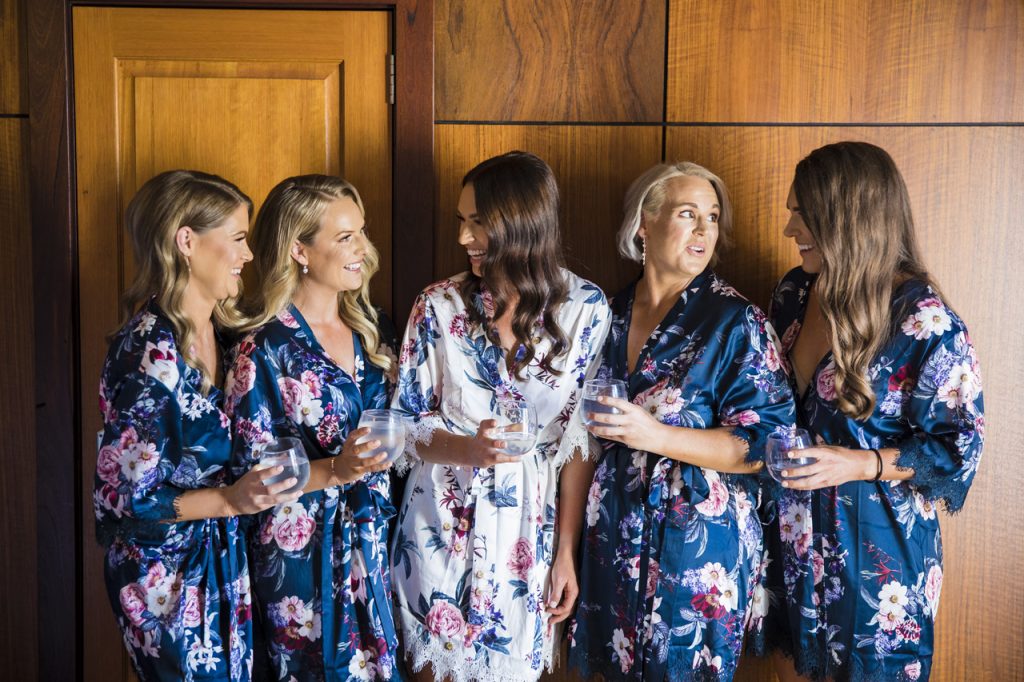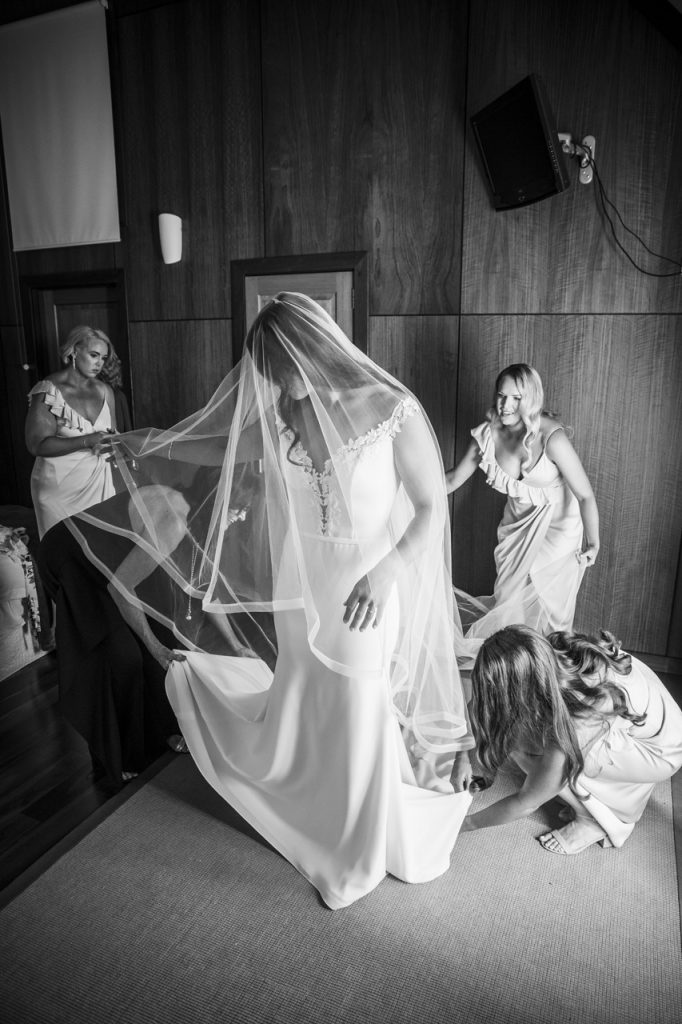 We also hired a bus from Mandurah through a friend for transport on the wedding night, so my dad, both bridal parties and our families rode down on this!
Where did you hold your ceremony?
Originally we were going to get married at the clearing, but we had to take into consideration our guests and timing (our ceremony started at 4pm), so we decided to use the gazebo and it turned out just perfect!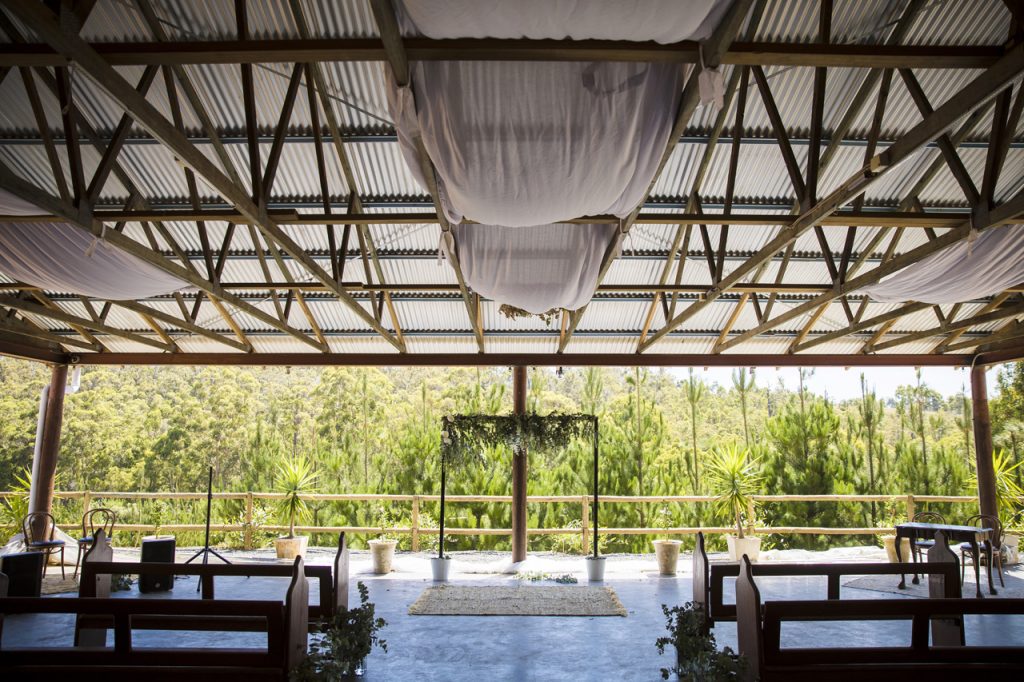 Our families helped us set everything up ourselves and we did not have to hire any furniture for the ceremony, as we used the church pews and benches, signing table etc. that were already at the Stonebarn
Where did you hold your reception, how was it set-up?
We held the reception on the verandah. We had so many guests comment on how relaxing it was and how beautiful the reception space looked and felt.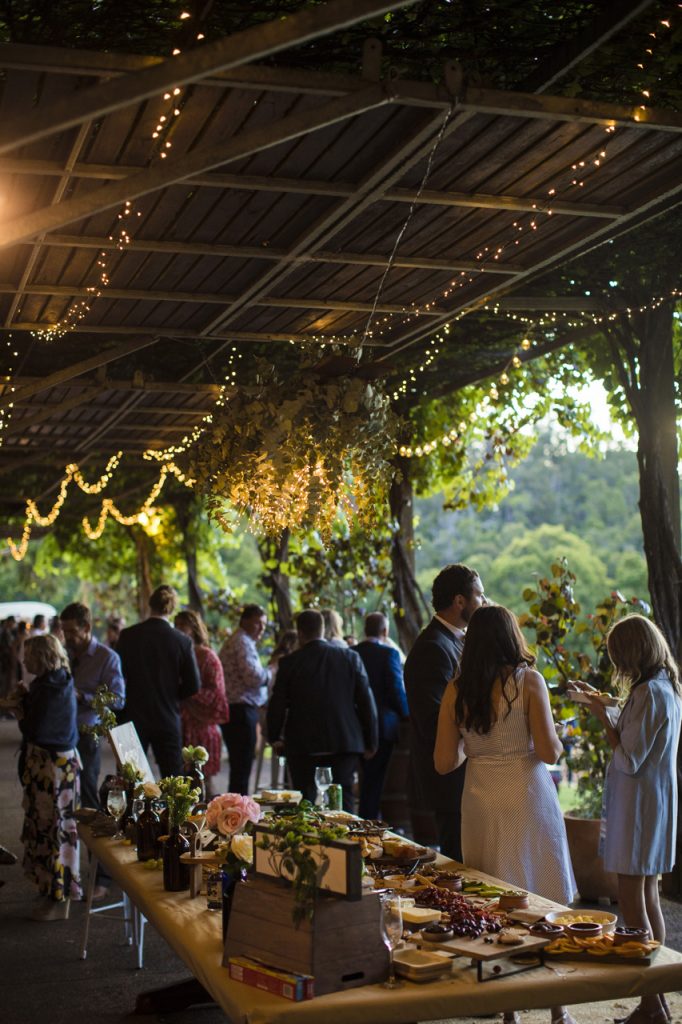 We kept the details simple, we wanted a cocktail style wedding that encouraged people to be social and mingle.
Simone from Mint Events Collective had dropped off some cocktail seating we hired for the reception, wine barrels and bar stools, plus her gorgeous Mr & Mrs letters!
We had a grazing table & live music for the first two hours of the reception, the bridal party were having photos during this time.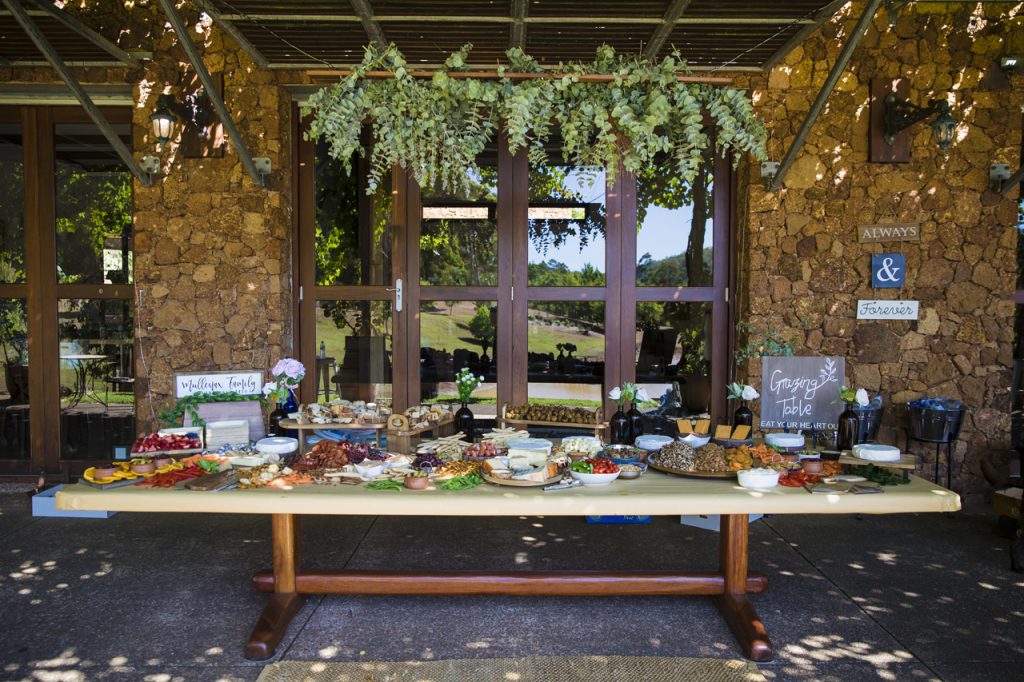 As this was happening, the Paella was cooking down the far end of the verandah by Mr Paella Perth (AMAZING):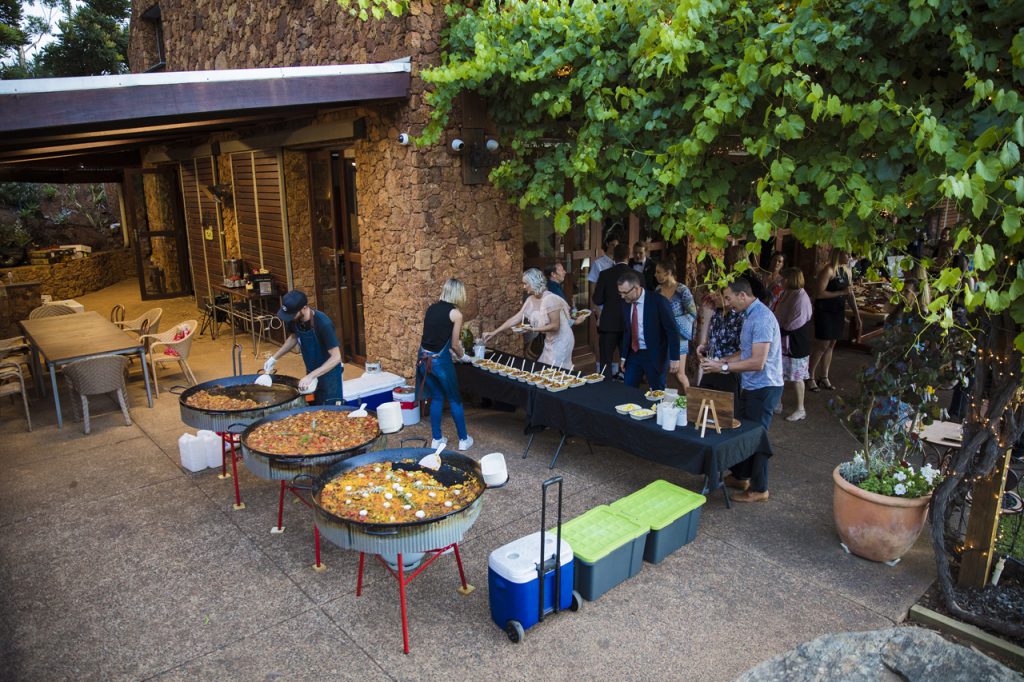 and Simone from Mint Events Collective (Charlie and Collette) was serving alcohol from her vintage caravan bar at the opposite end of the verandah.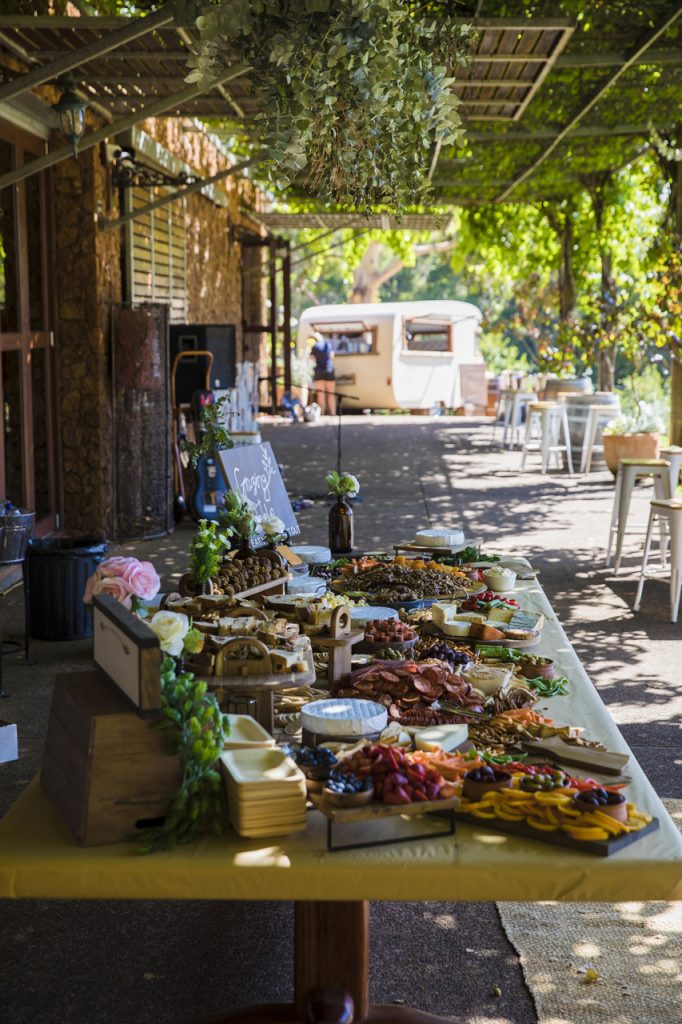 Once we arrived back from photos, the Paella was ready, DJ Peter Adams (also amazing service) was ready to start, he was set-up inside the dining area (were our dance floor was) and from there our guests helped themselves to fresh Paella, alcohol we supplied ourselves (served by Simone & her team) and later in the night hot churros.
Which wedding vendors did you use?
We used the following vendors – all of which, we cannot speak more highly of, especially our gorgeous photographer, Shelly.
Were there any standout moments? If so, what were they?
I would be lying if I said we didn't love the whole week. I personally don't know what I loved more, the actual wedding day or having both our families and the bridal parties blended together at the Lodge for the whole week. SO many incredible moments.
Seeing our wedding team (family and bridal party) work together on the Tuesday, setting up things, or packing things down on the Thursday was very special! The BBQ breakfasts and dinners throughout the whole week was also a highlight.
The ceremony was very emotional and special to us. We had live music, from Asha and Cooper, who are both so talented & our celebrant was perfect for what we were after and created a pretty unique moment for everyone.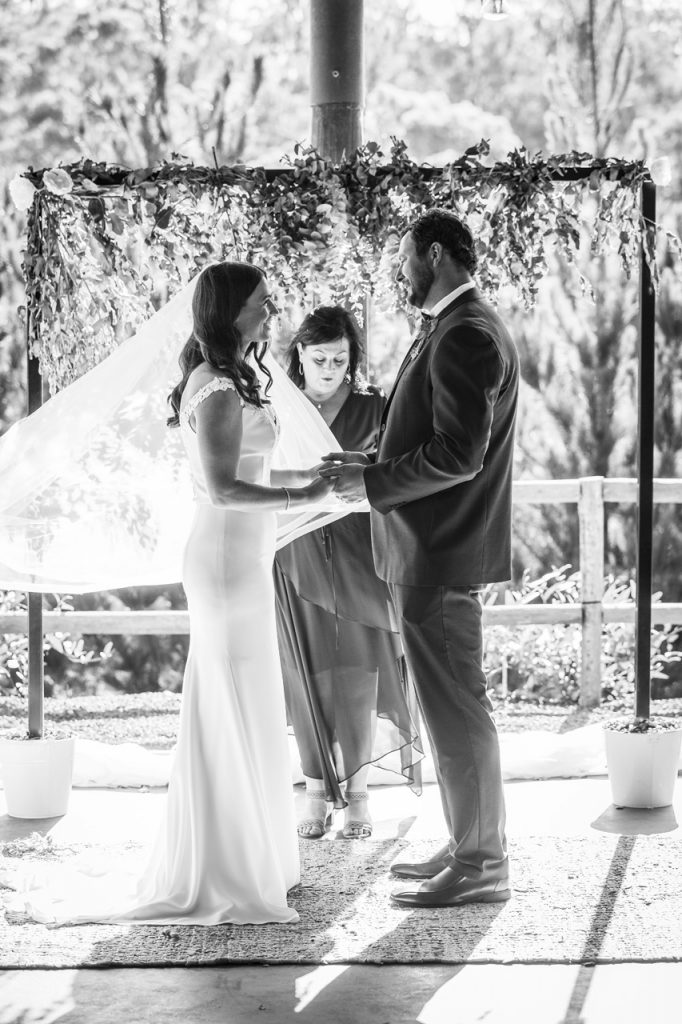 The speeches were fantastic too. But there was a moment when our photographer, Shelly, raced down to the jetty for a whole group photo at sunset and Taylor and I stood together and turned around to see everyone standing on the verandah, having a really good time which was a huge standout moment to us too.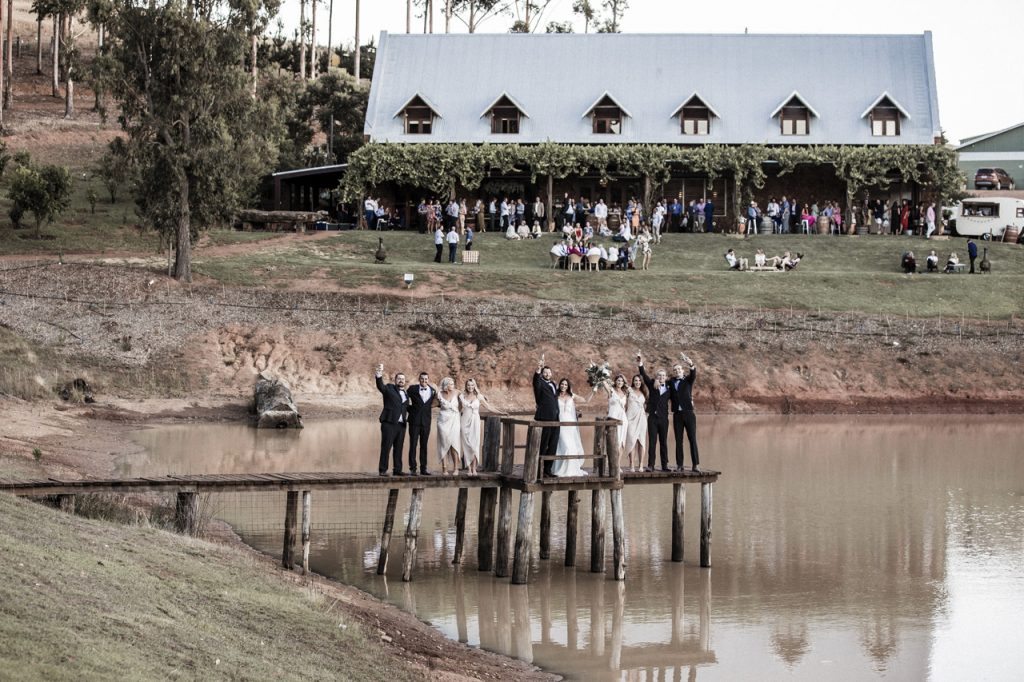 What made the wedding so amazing?
The venue made the wedding so amazing. We can't really explain how perfect the week was, sure there were hiccups, but the caretaker was available whenever we needed him or we were able to solve our own problems e.g. by opening a kitchen drawer or using the ladder in the shed. We both cannot recommend Stonebarn enough or won't ever be able to thank everyone involved with our wedding week in a way we feel is enough.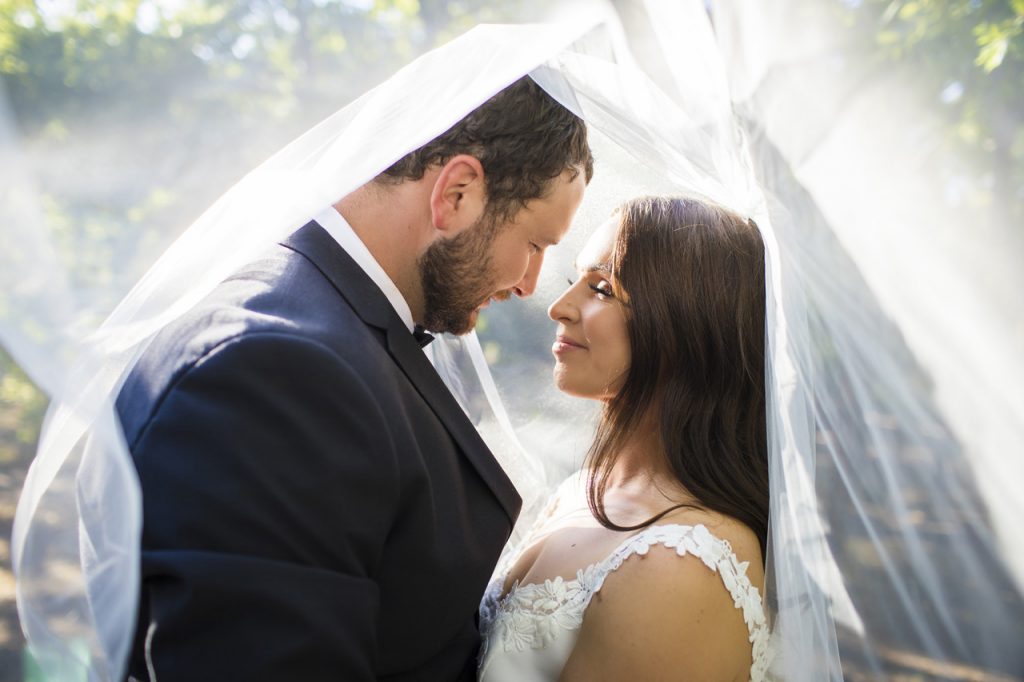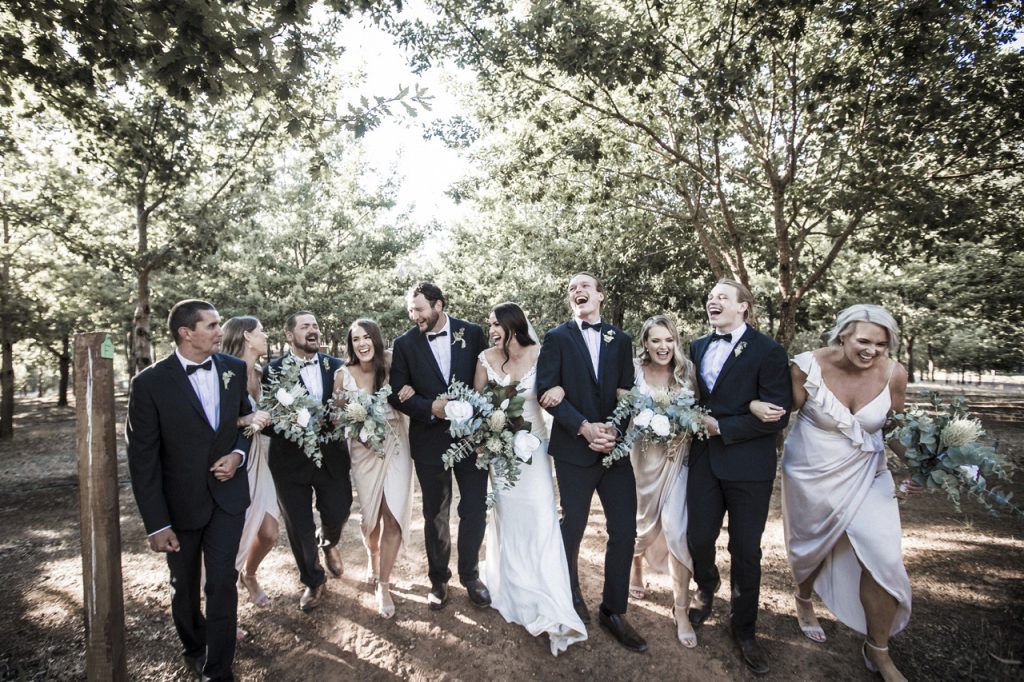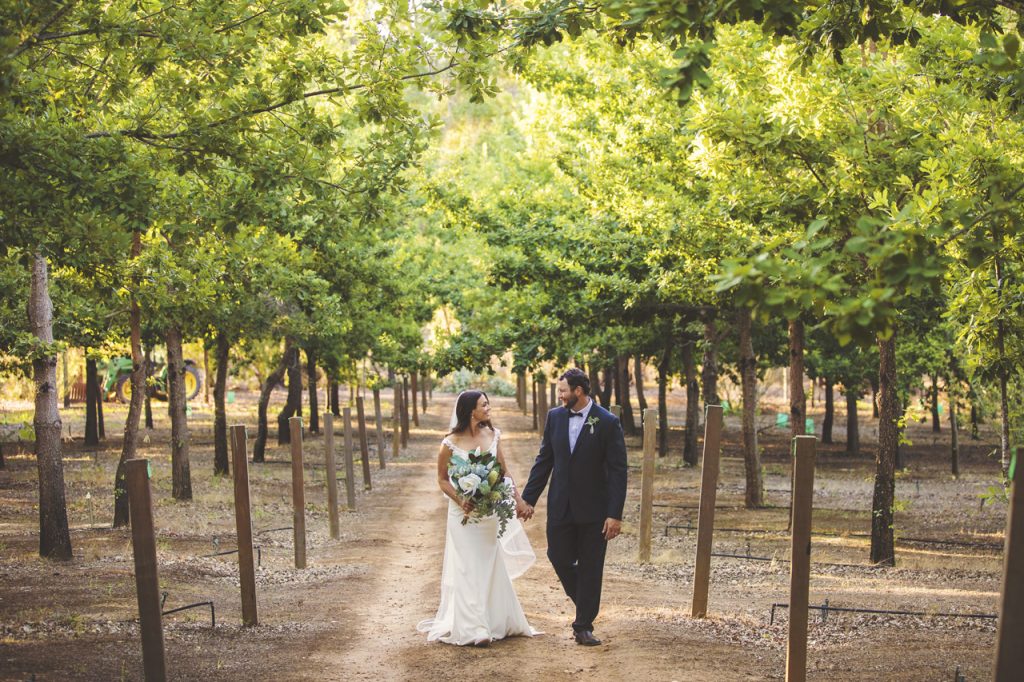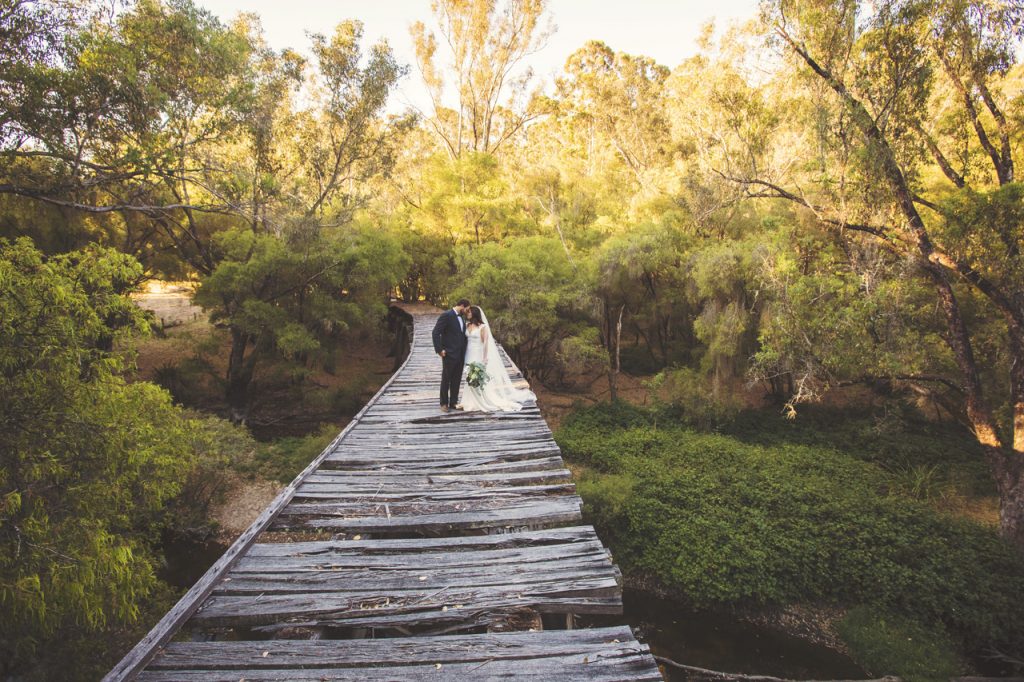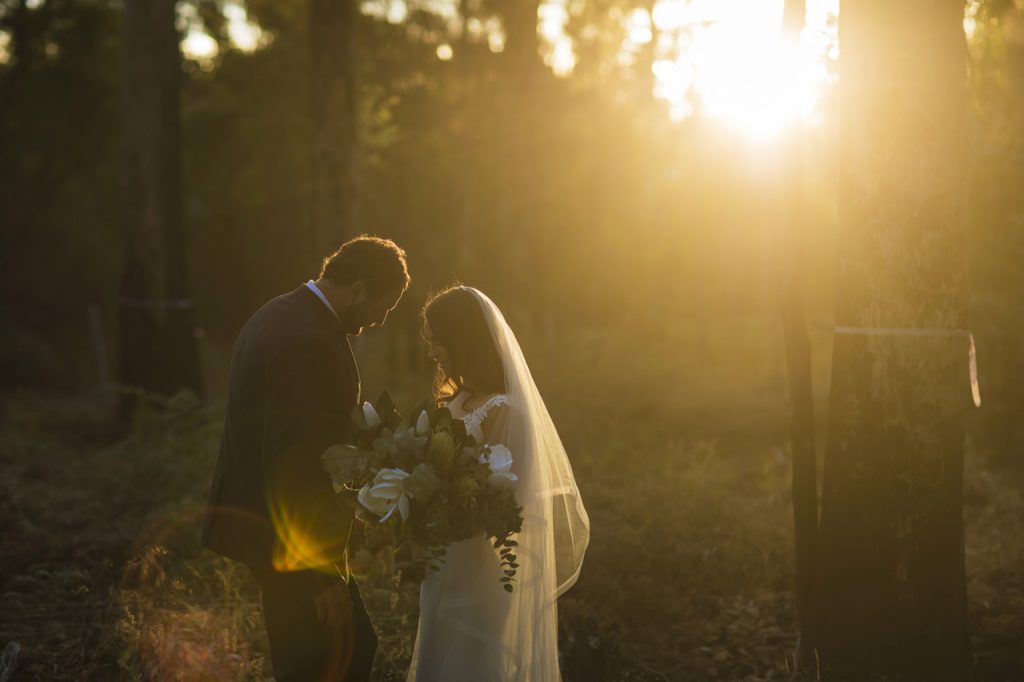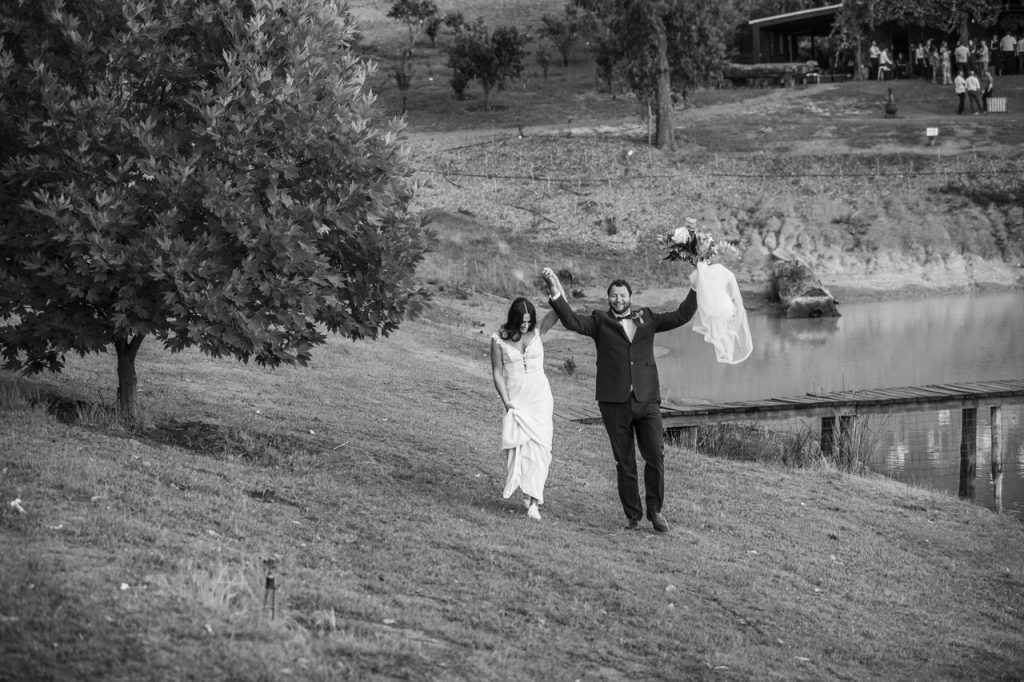 Thank you so much Bree for sharing your Stonebarn experience with us and for your kind words about Stonebarn. We wish you and Taylor a lifetime of love and happiness. Let the magic continue!