Stonebarn Weddings Reviews
When we started looking for a venue we had a vision in mind. We wanted to have a casual style wedding at a house that we could rent for the week so that we could turn it into a holiday.
We wanted a rustic wedding entwined with nature. We wanted to be able to set everything up with the help family and friends. We wanted all of us to be able to get ready at the same property so that we could have a big breakfast feast in the morning of the wedding with the bridal party and both our families then easily go start the beauty process – with five bridesmaids it was a long day. We didn't want to have to drive anywhere or spend too much time on bridal photographs, we wanted to get back to the party as quick as possible.
Stonebarn ticked every box. We loved that the house has separate wings. Dave got ready at one end and the girls and I got ready at the other. It also gave the parents privacy with their own wing.
I originally found the property online and fell in love.
Once we saw the place where we were to have the ceremony (The Clearing), we were blown away. It is so beautiful up there, we decided straight away this was it. We didn't even look at any other venues.
The property has so many amazing places for photographs which are all within a five minute walk.
We had THE best weekend, everything was perfect.
BRITTANY & DAVID, 2016  View Gallery >
We had such a wonderful time at Stonebarn, it was all that we could have asked for! All of our guests were blown away by the beauty of the setting.
I wanted to be married in a forest. Very natural and carefree. The Stonebarn location provided me with all of the inspiration I needed.
We stayed at the Stonebarn with both of our families for four nights which was such a special and memorable experience for all of us.
JENAYA & ZAC, 2015  View Gallery >
A massive thank you to the staff of Stonebarn, Pemberton for making our special day the most unique, intimate and relaxed wedding day we could have dreamed of.
Allowing us to intertwine our personalities in a such a beautiful, pristine and breathtaking venue helped create the memories of our wedding over a special three day stay. Stonebarn provided the relaxed atmosphere any bride and groom would love for our whole family and friends to experience.
Our wedding party were all able to stay in the beautiful luxury accommodation whilst enjoying the relaxed and secluded surrounds Stonebarn offers.
Casually setting up how we envisaged to suit our day and when we wanted, made for no rushing, no restrictions and importantly; no stress! With Stonebarn's location our last minute forgets were easy fixes being only a  short drive from central Manjimup. Our caterer was in love with the large kitchen!
We always wanted a venue that allowed us to have both our ceremony and reception in one location, with a natural setting for beautiful photos we could cherish forever! Our guests fell in love with Stonebarn instantly; just as we did. It all made for a magical weekend wedding!
We cannot thank you enough for making our wedding have such a truly natural, unique and personal touch we will treasure forever.
NATALIE & BRENDAN, 2016
We had our wedding at Stonebarn and could not have hoped for a better venue!
The six gorgeous king-size bedrooms perfectly accommodated our families who stayed for a few days to take advantage of the peace and quiet.
We had caterers from Perth who appreciated the extremely well equipped commercial kitchen and wood-fired oven which was just as suitable for smaller family meals in the days prior.
The natural beauty and tranquility of the property surrounds were matched by the luxurious details found inside, including L'occitane toiletries, fluffy robes and super comfy four poster king sized beds.
The office were a dream to deal with, answering our many questions and going out of their way to ensure we had everything we needed for our big day to go smoothly.
Plus, the oak trees and forest made for incredible backdrops to our wedding pics!
Such a dream location, we want to be back there right now!
KELLIE & BRANNON, 2014
Thank you, we had the best wedding at Stonebarn. Everyone really loved the accommodation and the grounds.
HAESUK & ADAM, 2016 View Gallery > 
We had the most amazing time and absolutely loved every moment we were at Stonebarn. Thank you for sharing Stonebarn with us.
CLAIRE & BRAD, 2016
Thank you so, so much. We loved our time here. It's been the perfect place for our wedding and an even better place to wake up to as newly weds!
MR & MRS SARGENT, 2016
Thank you for the most amazing wedding venue we could have ever imagined. The rain definitely did not get in our way, as much as it tried! We can't wait to return some day soon for a tranquil weekend away.
MR & MRS DUXBURY, 2016
We had a fantastic time and really appreciated the efforts you put in. Once again, thank you.
JOHN AND JADE, 2015
I just wanted to say thank you for assisting us with hiring your venue. Stonebarn is an amazing property, definitely a special place! We loved it, had such a great weekend. Not just on the big day, but for the entire time we were there.
It was beautiful, relaxing and exciting and the perfect place for what we wanted. Couldn't have been anywhere more perfect in location.
TERESA, 2016
We had an amazing time at Stonebarn and wish we could have stayed longer. The grounds are gorgeous and even with a very rainy day we had a fabulous wedding. The house was more than accommodating for our 90 guests. Everything worked out wonderfully on the day and we couldn't have been happier. Thank you once again for a beautiful place for us to marry!
LAUREN AND BEN, 2016
Our wedding was fantastic and all our guests enjoyed the venue immensely.
MEL & BEN, 2016
Was such a lovely stay and the perfect setting!
CHELSEA, 2016
Thank you so much for the amazing venue. All of our guests were so happy to join us down in Pemberton, our favourite part of WA. We have been enjoying the farmed Truffle with close friends, too.
Thanks again. 🙂 We have already been thinking of a return trip to Stonebarn.
LAUREN & BEN, 2016
Absolutely joyed with how the wedding went. Everyone was very impressed with the whole show and the stunning appearance of Stonebarn – the south west weather brought a cool mist and made the day and night quite magic.
Thank you so much with all your assistance, right from the beginning giving us the chance to see the place when we were just cruising around, to everything leading up to our wedding.
The venue proved to be just perfect for such an event – we nicely fitted 100 people on the verandah and the indoor space added so much more room and comfort. The spaciousness and spare rooms allowed guest with babies to put them to rest and still have fun, and everyone just enjoyed the space so much.
The rooms were so nice and comfortable – everyone that stayed there enjoyed them thoroughly.
MICHELLE & DAMON, 2015  View Gallery >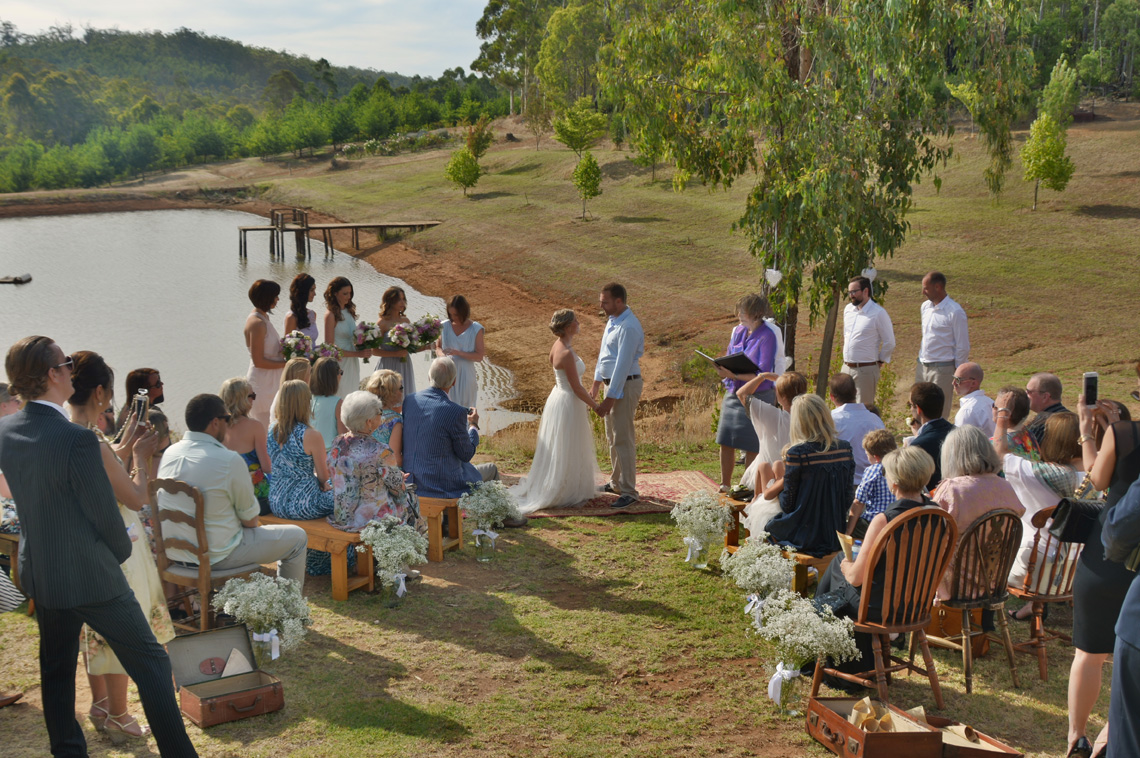 We had such a brilliant time at Stonebarn – the setting was exactly what we were after and we surprised and delighted many of the guests who had no idea the place existed.
JESS & EMMERSON, 2015
Are you getting married? Get married here! I came as a caterer and I fell in love with the place, the landscape, the staff…and the kitchen 🙂
Amazingly recommended!
NIMROD KAZOOM, 2015  View gallery >
I love this place. Beautiful, stately lodge to have your wedding.
Private location and large commercial kitchen. Has a number of places to perform wedding ceremony and have your reception. Suitable all year round.
RENATA'S CELEBRATIONS (CELEBRANT), 2015 
Amazing place to stay every need catered for. Beautiful, beautiful, beautiful!!!!
SUSIE, 2015 
Stonebarn, between the forrest, this luxury paradise! What a treat!
Wonderful stay, this is a special place!
KALLIA, 2015 
Stonebarn is above and beyond in every way.
MARK, 2015 
A sole use wedding venue where you provide your own caterers, decorations etc, Stonebarn was exactly what we were after.
Set on the top of a hill overlooking the karri trees on a truffle farm, the venue – a stunning lodge, had all the makings for our day.
MELISSA, 2016
Thanks so much for all your help with our stay at Stonebarn, we had the most amazing time. Stonebarn is truly magical!
EMILY, 2015 
I had the pleasure of visiting Stonebarn in Pemberton during the week and checking out the stunning grounds and luxury accommodation. Stonebarn is available for weddings; if only I wasn't already married! Seriously though, if you are looking for somewhere amazing to have your wedding this is it!
LAUREN (STYLIST), THE STYLE EST., 2015 
We've just spent four nights at Stonebarn, an absolute gem of a place near Pemberton. Located in a lush forest, this impressive lodge fully lives up to expectations. The bedrooms are luxury exemplified, the gourmet kitchen is culinary heaven, the scenery is stunning and, if you want to make new friends, the resident ducks and guinea fowl are happy to oblige. And don't forget the outdoor bath under the trees overlooking the lake (suggestion: take someone with you; this hot tub is there for the sharing).
Highly recommended!
CARL, 2015 
Thanks, Stonebarn for an exceptional wedding location. Everything went wonderfully well.
LEONIE, 2015 
Stonebarn – what a stunning venue for our daughter's wedding. A very memorable place.
DEBRA, 2015 
We chose to get married at Stonebarn in Pemberton because of the estate's natural beauty and versatility. There were quite a few stunning outdoor sites to choose from for our ceremony and reception, as well as under cover options in case of bad weather.
2015