Catching up with the wonderful Nardine Walford-Jones of Scentiment Flowers  was great! We learnt how she decided to follow her passion and create her own dream job! She also provided us with some fabulous tips on how brides can relax and enjoy their wedding day while she looks after everything floral related!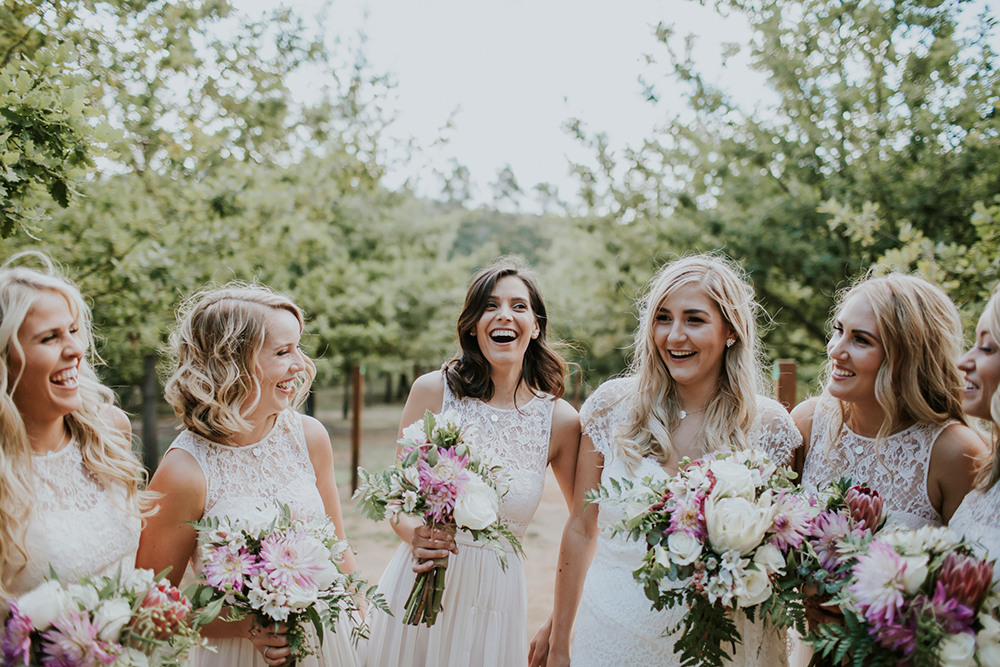 "Scentiment Flowers designs and styles beautiful, bespoke wedding and event flowers.  Flowers are my passion and I am an absolute perfectionist so only the freshest, most beautiful blooms will do for your exquisite bouquets and boutonnieres, fabulous flower crowns, stunning ceremony flowers, elaborate arbour displays, gorgeous table arrangements and decorative cake flowers.
I'm a details person! I'll happily suggest ways to get the most from your budget to ensure all the little details (and the big ones too) are covered … from vases, to candles, shepherd's hooks, lanterns, urns and pedestals, vintage boxes, timber arbours, a crystal chandelier … my hire catalogue is very extensive!
I love the fact that my job takes me everywhere throughout the gorgeous south west of WA to style wedding flowers … from the simplest of timber (and stone) barns and farm properties, to the grandest of wineries and hotels. I take pride in my ability to interpret your vision and turn your floral dreams into a reality."
Why did you decide to get into the wedding industry?
I guess I'm a bit of a cliché really … I got my uni degree and had the dream career (marketing)for almost 20 years before deciding I wasn't satisfied creatively. After a bit of soul-searching (and a fortunate series of events) I discovered floristry and, remembering the joy of my own wedding experience, decided to specialise in wedding and event flower styling. Now I have a studio on my beautiful country property, an expanding picking garden and birds singing as I style your wedding flowers – I truly am living the life!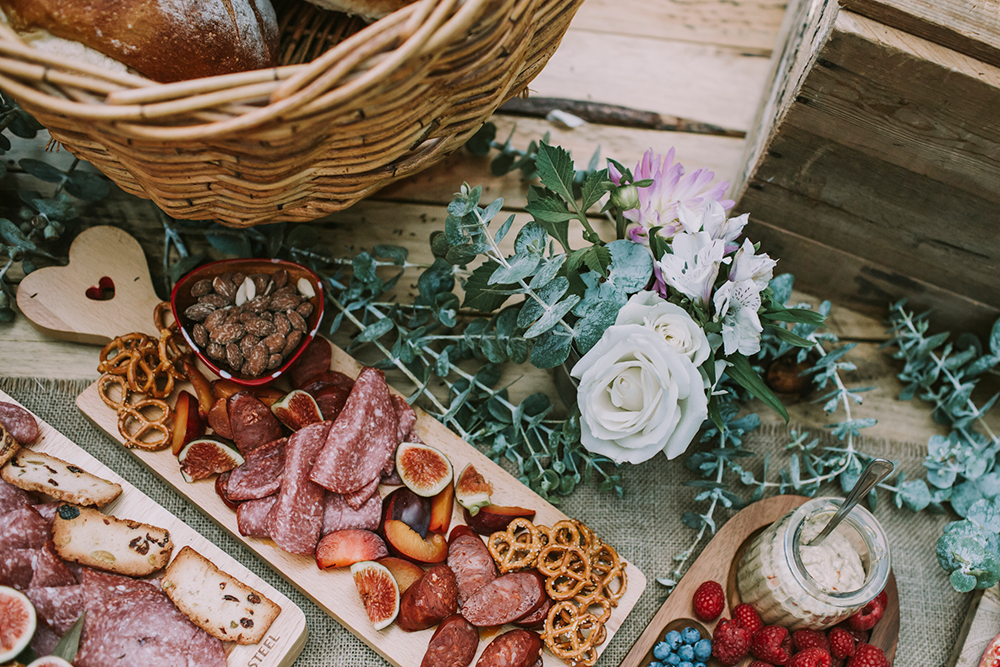 What is the ideal amount of time a bride can give you to prepare for the big day?
Haha – the longer the lead time the better! Seriously, if you want to secure the services of your preferred florist you should approach them as soon as possible – the best of us are often booked two years in advance, which makes securing popular summer wedding dates a priority!
How long does it take you to envision which blooms to use, order them, get them in and style them on-location?
I wish I could provide a quick/easy answer for this one, but it does depend on the client's vision and how much I am able to contribute to the wedding flower planning process. Being a south-west based florist, it is always beneficial to have your final order confirmed no later than 30 days prior to your wedding date, so that I can place your order well in advance with my wholesalers/growers. This gives us the best possible chance of securing your preferred flowers. As for on-site styling this is entirely dependent on the scope of work, for example: a typical wedding day includes packing flowers and loading up a vehicle (or vehicles) to transport your flowers from my studio to your accommodation, ceremony &/or reception venues; personal delivery of bouquets (& a quick chat and best wishes to the bride & bridal party); helping the boys & family members pin-on their boutonnieres; setting up of ceremony/arbour flowers; setting up of reception table flowers and usually some kind of a hanging installation (this requires a significant amount of time & staff); styling your wedding cake flowers on-site at the venue; and … if required, staying through the ceremony in order to move your ceremony flowers to your reception venue. Oh and then I return the next day to pack everything down again!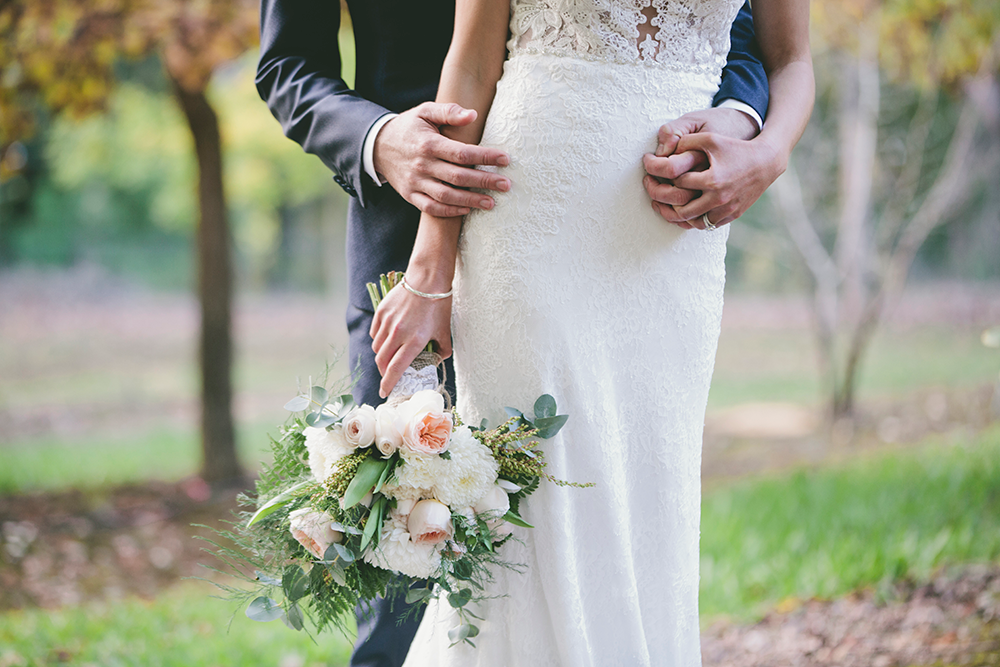 What is your favourite season to style your arrangements in?
That's a bit like asking a parent to name their favourite child! One of the best things about wedding flower styling for me is the changing of the seasons … the different flowers, colours and textures that come and go from one season to the next. And with our varying south west weather conditions, no two years are the same either! So a bride who is happy to put their trust in me to source the best quality, in-season flowers is my kinda gal!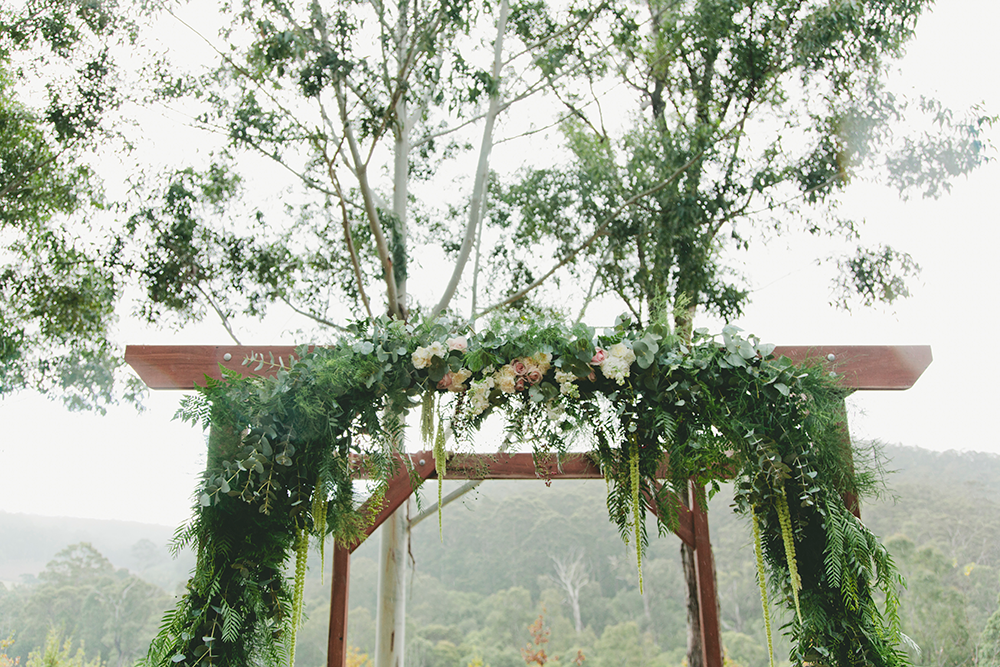 What trends have you seen over the last year and where do you see the trends turning in the next year?
Foliage, foliage and more foliage! In fact, foliage has become so popular that Pantone decided to make 2017 the year of 'greenery'! Whether it's used for arbour garlands or banquet tables, photo backgrounds or hanging installations – I like to think that no colour scheme is complete without a whole heap of green!
Moving into 2018 … I see vintage country making way for glamour country. Think crystal chandeliers and cut crystal glassware; loads of candles – candelabra, candle sticks; candle votives and lanterns; soft linens, silk ribbons and heavy lace-work; and for your wedding flowers – think classic white and green, or for the more adventurous … rich, ruby or jewel-coloured flowers – all perfectly suited to a Stonebarn wedding! Oh and winter weddings are so under-rated! Imagine saying your I-Do's surrounded by wood fires, candle-light and lanterns, woollen blanket favours, hot cocoa bars, pashminas and long-sleeved, lace gowns – now that's a wedding I'd love to style!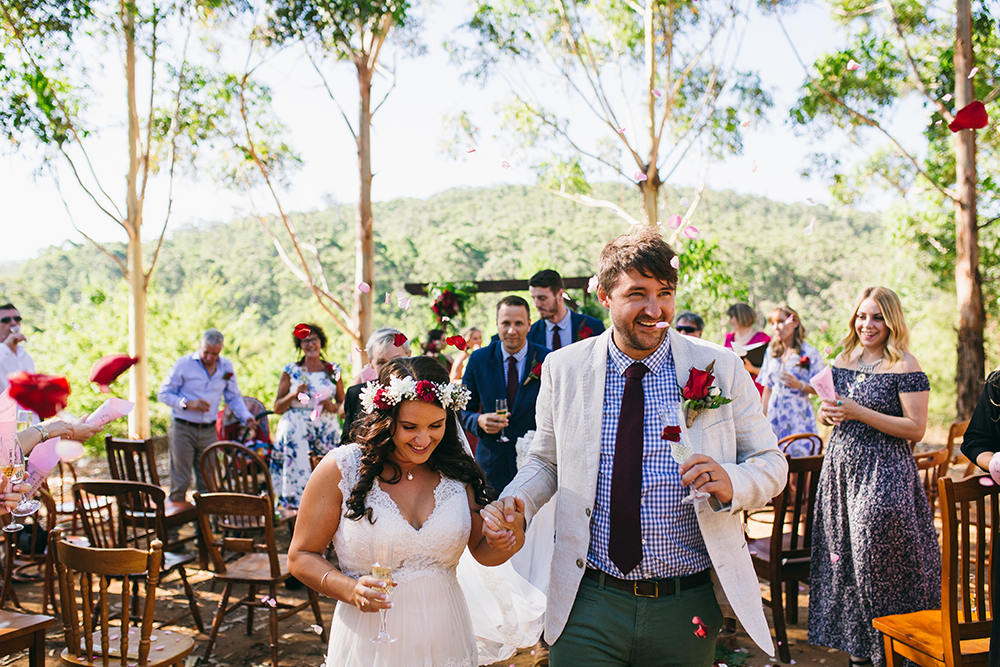 What are common mistakes you see brides make when planning for their big day?
Unfortunately there are a few common ones:
(1) Thinking you can do it all yourself. It's your wedding day – you should be relaxing, spending quality time with your family and friends and being pampered – not stressing about your flowers. Please, please, please, allocate a small amount of your budget towards a professional florist to take care of all the floral details – you won't regret it.
(2) Your bridesmaids may have great intentions when they offer to take care of your wedding flowers, but I've seen it happen too many times – after a champagne or two they tend to lose a little bit of 'focus'! Appointing a professional takes that stress away too.
(3) Aunty Mary/cousin Michelle's offer to 'do your flowers' may look like a great cost-saving measure at first, but consider all the details your professional florist takes care of:
– Planning your flower order based on expert knowledge of what's in-season, on-budget and available in your colour palette (including flowers you may not even know exist!)
– Liaising with growers/wholesalers when your preferred flowers unexpectedly become unavailable, to obtain an even better selection
– Ordering your flowers, at wholesale cost, direct from the grower or wholesaler
– Liaising with the grower/wholesaler to receive delivery of your flowers in a timely manner (eg: so that your lilies open at the perfect time, your peonies don't blow-out before your wedding day etc)
– Unpacking, stripping, trimming, preserving and storing your wedding flowers at the correct temperature (all of which takes more time than you would expect and is particularly important during a hot Aussie summer)
– Ensuring they have the best quality tools to keep your flowers looking fresher for longer
– Delivering to your venue, on-site styling, actioning your plan B (often at short notice) in case of bad weather, moving flowers from ceremony to reception, and returning the next day to pack it all down for you
(4) Don't be too specific when it comes to your wedding flowers – if you allow your professional florist to work with in-season flowers within your colour palette, not only will you receive the freshest and best quality flowers available at the time, but your wedding flowers will be so totally unique – not just like every other Pinterest or Instagram pic you have coveted – even better!

Where is your favourite space at Stonebarn to style arrangements?
I have an 'aaahhh' moment every time I step out of my car into the beautiful, fresh air at Stonebarn, so I love every little part of the Stonebarn experience. But if I absolutely have to list my favourite, then 'the clearing' is an extra kind of special. The natural beauty of the forest is perfectly highlighted with gorgeous, fresh flowers on an arbour or in a circular setting.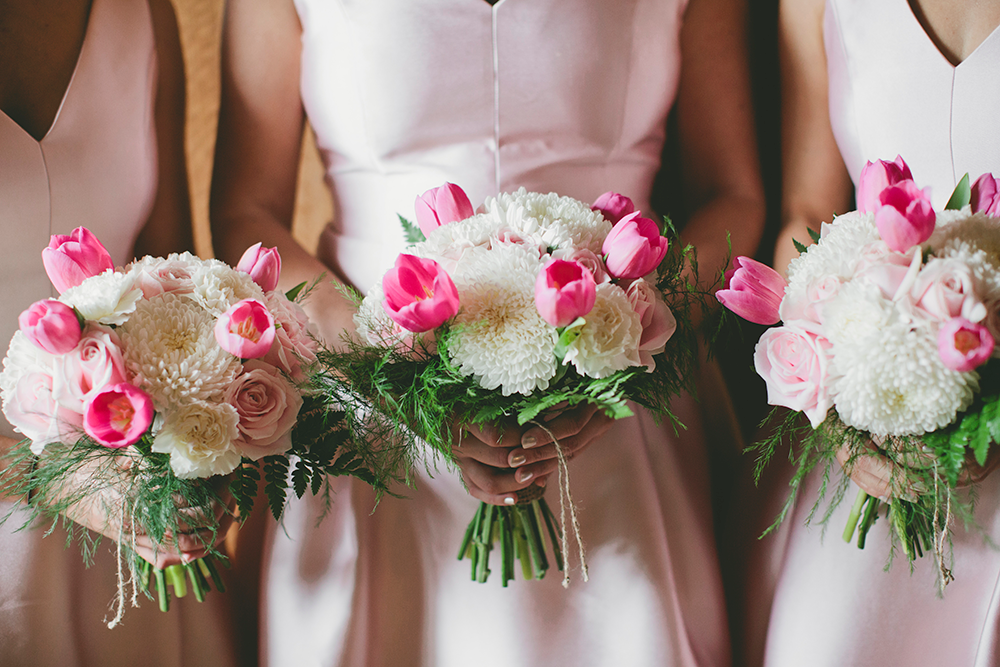 To get in contact with Nardine about styling and designing the flowers for your special day at Stonebarn head to scentimentflowers.com.au or email nardine@scentimentflowers.com.au