Kat & Frank married at Stonebarn on 23rd February 2019, they stumbled across Stonebarn through wedding directory WedShed. Their wedding weekend was captured beautifully by photographer We Are All Stardust. Read on to find out more about their festival themed wedding.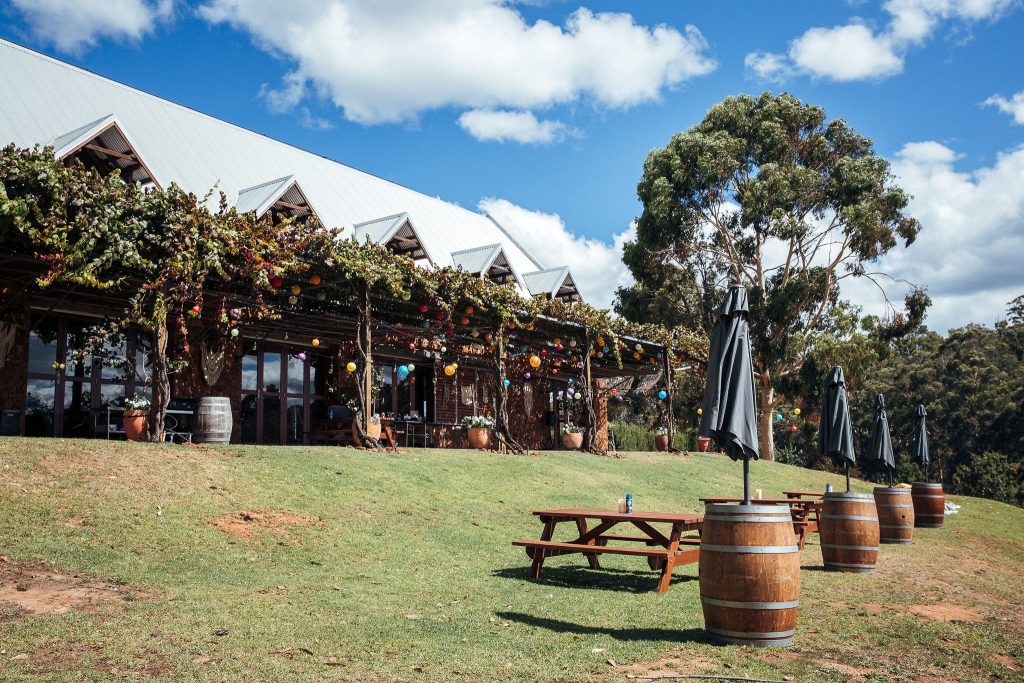 "We took friends down to Pemberton for the Easter long weekend to have a sneak peek. As soon as we arrived we got tingles coming up the driveway. It instantly had this WOW factor that we absolutely adored. It only got better and better as we were shown all around the many potential options for all the aspects of the day. It was important to us to pick a venue that could cater for the whole day and night which Stonebarn definitely delivered on. It was also a relief to know that there was always plan B & C options for all weather conditions too. Having the Easter break in Pemberton also meant we fell in love with all the local vendors and surroundings. With Frank being from Ireland, we wanted to find a place just as green and luscious and with a better chance of sunshine"
They originally booked the 2 night package and when an extra night became available they then upgraded to the 3 night package instead. "We definitely needed the extra night to really make use of all the Stonebarn's facilities and soak up the beautiful and tranquil surroundings… not to mention recover from the wedding!!"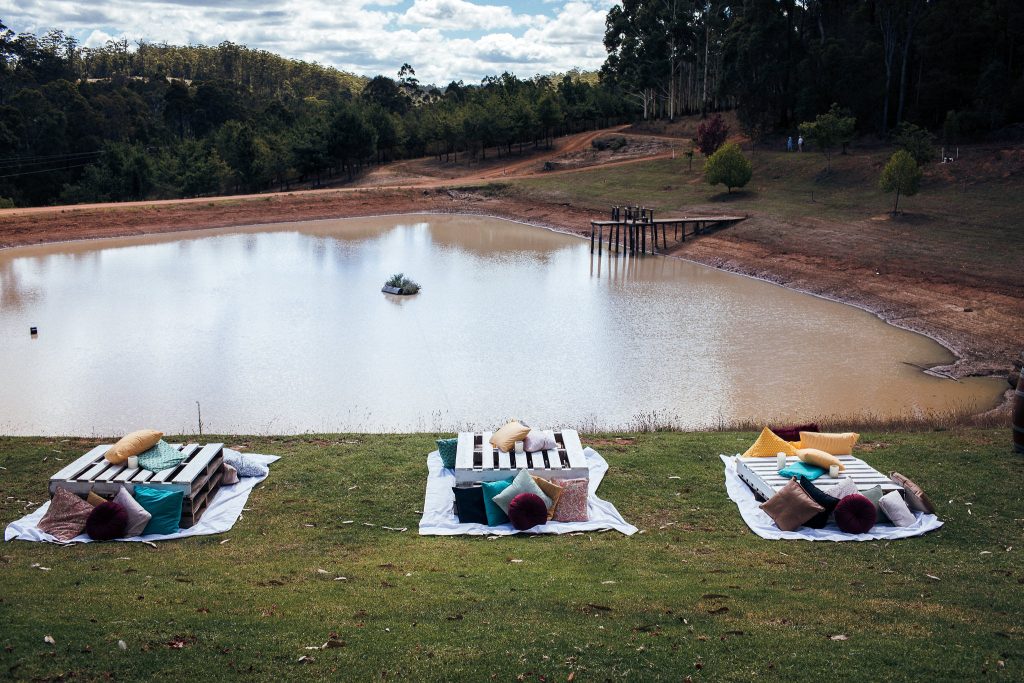 Kat & Frank travelled down 2 nights before the wedding to get an early start on preparing the venue before the big day and be well rested.
"We used the lower clearing for our pre & post ceremony gathering where our guests could enjoy some nibbles and champagne with the truffle trees as a beautiful backdrop.
We dedicated the upper clearing for our ceremony and used the connecting walkway as the start of the bridal party entry. The ceremony was topped off by the beautiful arbour Stonebarn provided which held our amazing rainbow coloured tree designed and produced by one of the bridesmaids. It provided the perfect frame for our wedding and a great backdrop for our guest to take photos of themselves."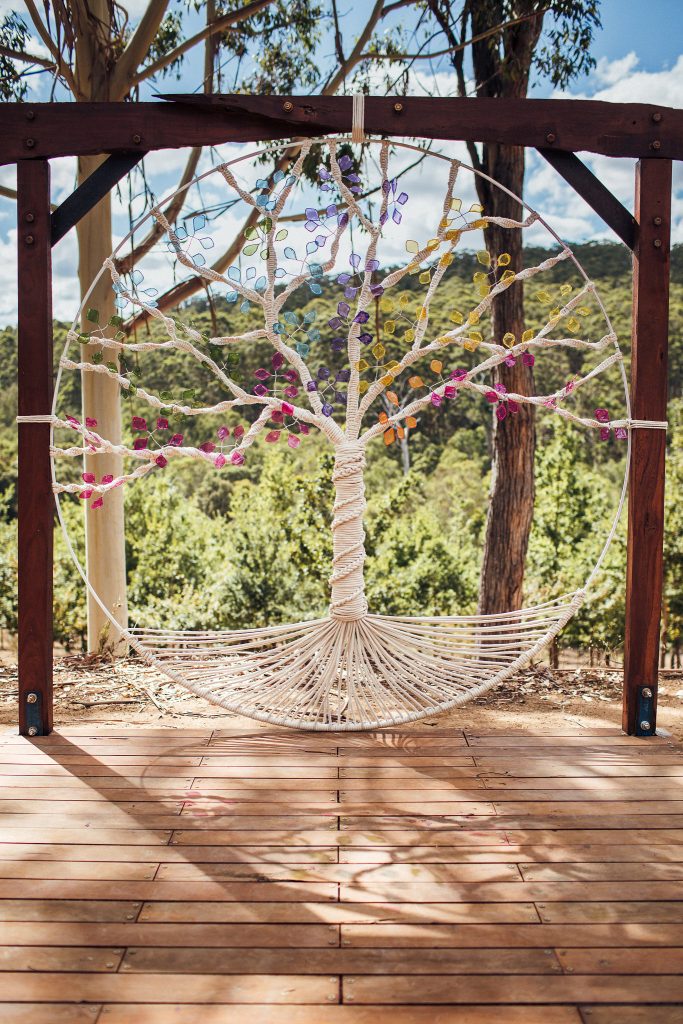 They held their festival themed reception on the veranda overlooking the dam. The food was supplied by the Supper Rd food truck and their amazing wait staff served delicious canapes.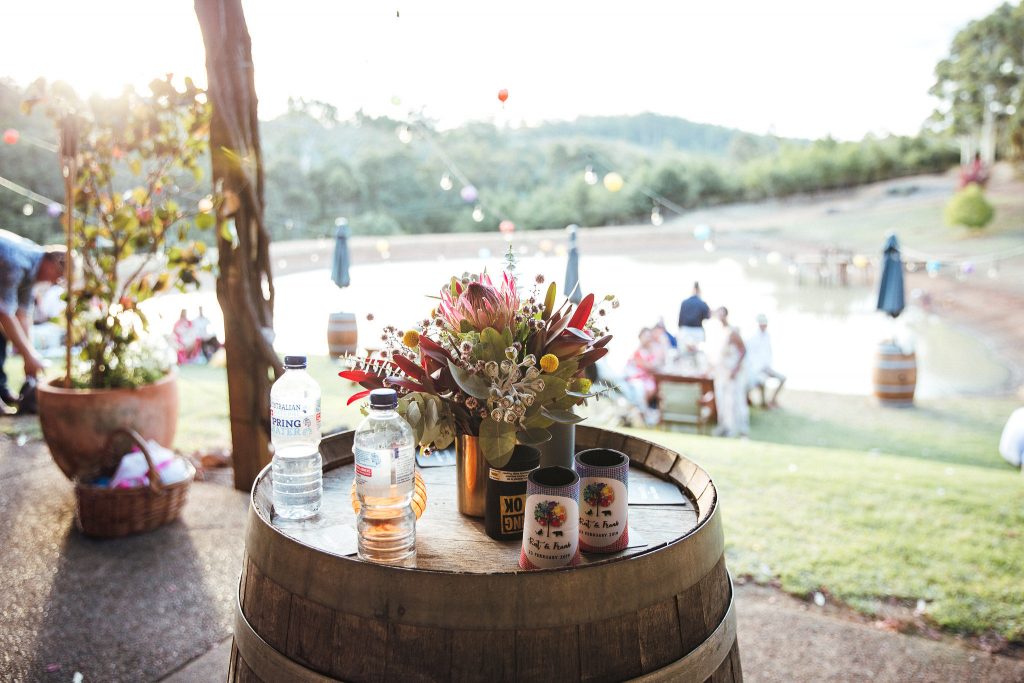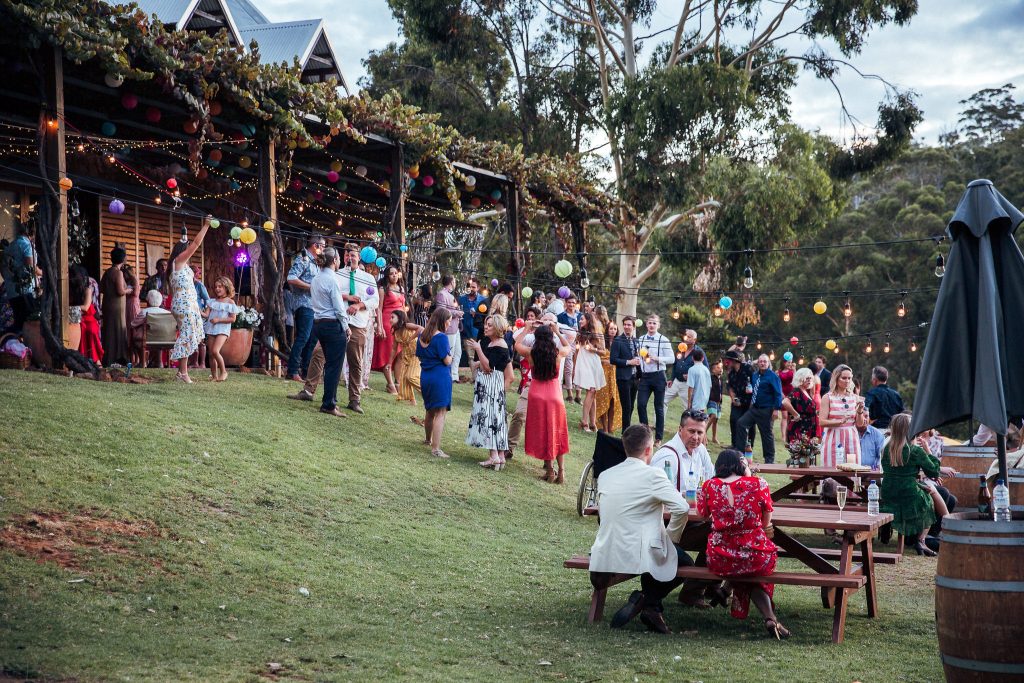 Hair was styled by Gypsea Locks Hair Design while the Make-up and flowers were done by Mayflower Weddings & Events.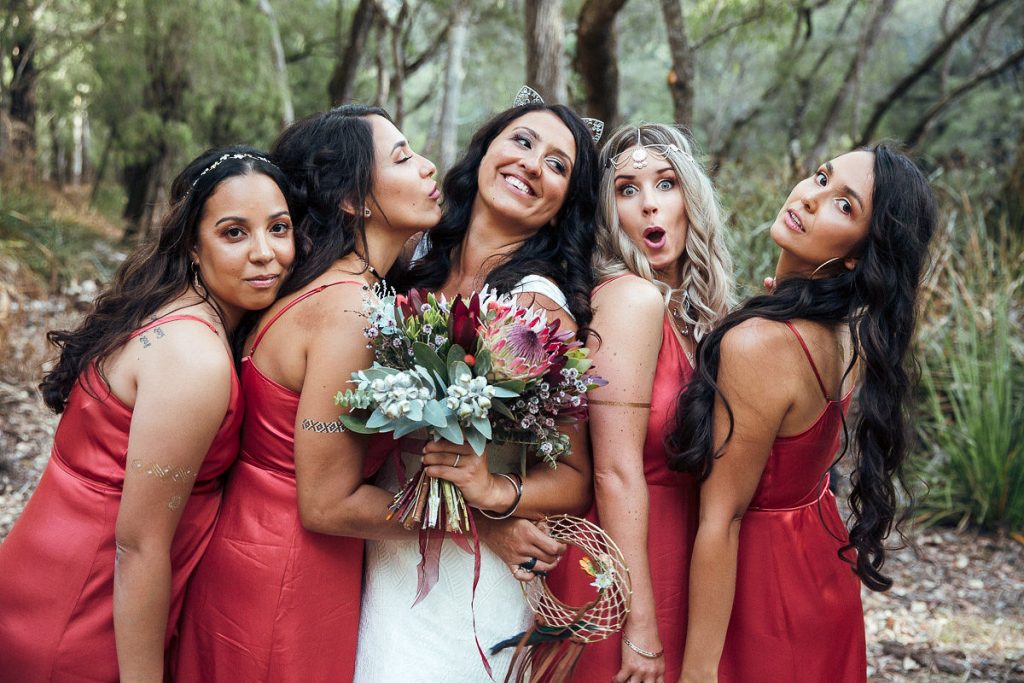 Live entertainment was provided by The White Tree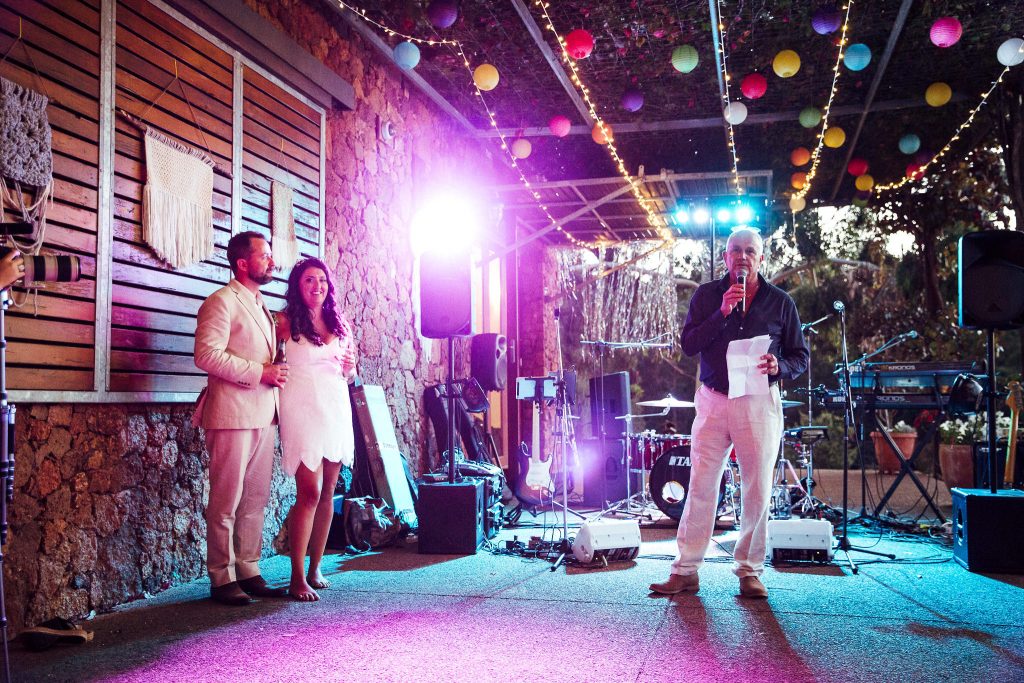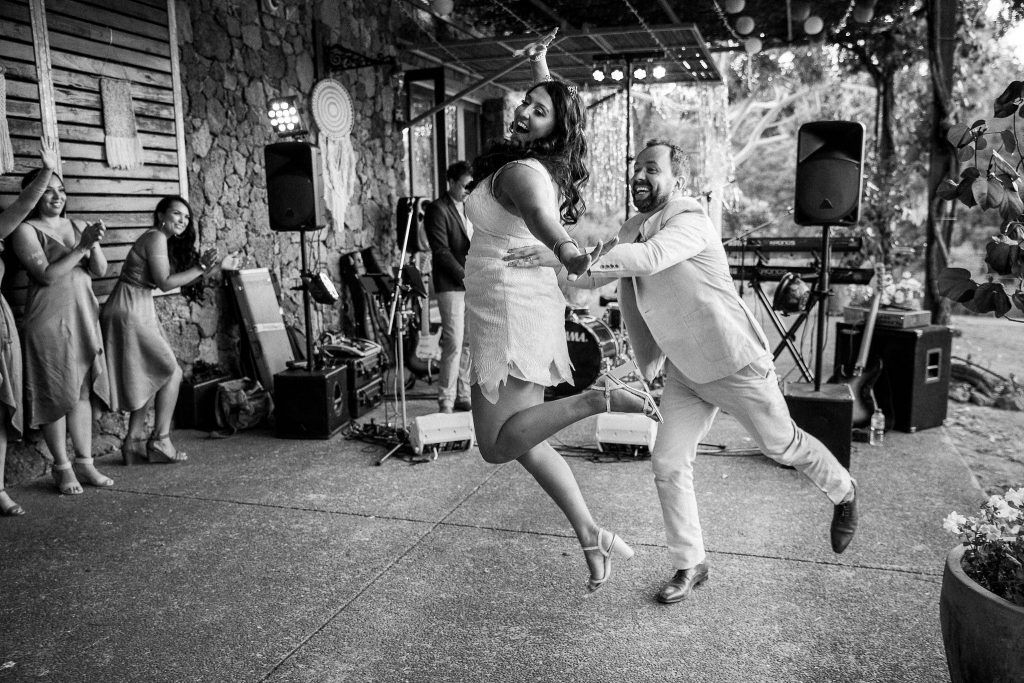 "We set up picnic tables across the lawn to leave space on the veranda for the bar, the band and our dance floor. We wanted room for as many people to dance as possible. We were in absolute awe when dusk hit and the sun started to set. It was magical!"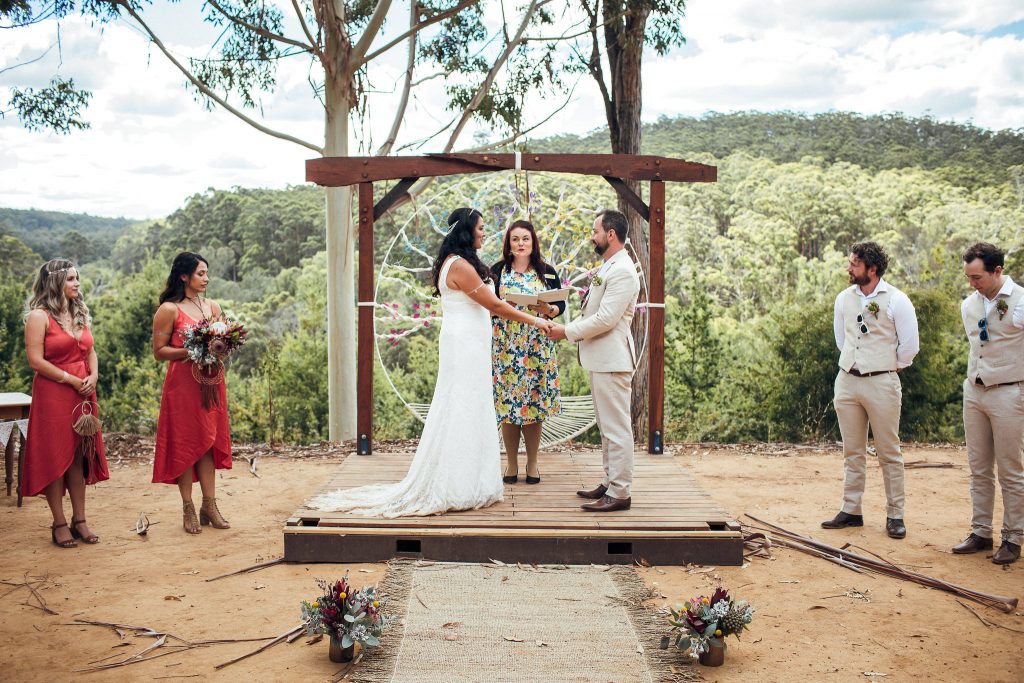 Kat and Frank were married by celebrant Belinda Robinson. "Getting to say our personal vows in front of everyone we love was always going to be an amazing moment for the both of us. What made the whole day so fun & special was everyone's involvement in sharing those moments with us."
The poems all their readers wrote or chose for their ceremony were so special. They made them laugh and they made them cry.
Kat and Frank weren't sure if asking their guests to sing was going to work but they were so impressed how much fun everyone had singing 'You've Got The Love' while they were signing their marriage certificates. It gave them both goosebumps all over.
Kat & Frank's wedding was filmed by Emma Smart Videography
"We loved having all the bridal party being able to stay on the premises. A lot of the gang had only met that weekend but by the end we all felt so much closer. Being a blank canvas venue meant we could put our own spin on every element of the day which we took full advantage of. Stonebarn made the possibilities endless! We hope to get back to the venue one day to bring back all the wonderful memories made."
Thank you so much Kat and Frank for sharing your very special memories of your Stonebarn wedding with us. We wish both a lifetime of much love and happiness.