Hope and Kim married at Stonebarn on 13th March 2022. Hope had spent around a year during COVID searching for the perfect location for her wedding after having to delay their previously planned 2020 wedding. She found Stonebarn on Google and was instantly drawn to the picturesque landscaping and laidback vibe of the verandah. It felt simple and casual but spectacular which was the vibe they were after. This vibe is captured perfectly throughout this blog with beautiful natural light pictures by photographer Jessica Josie.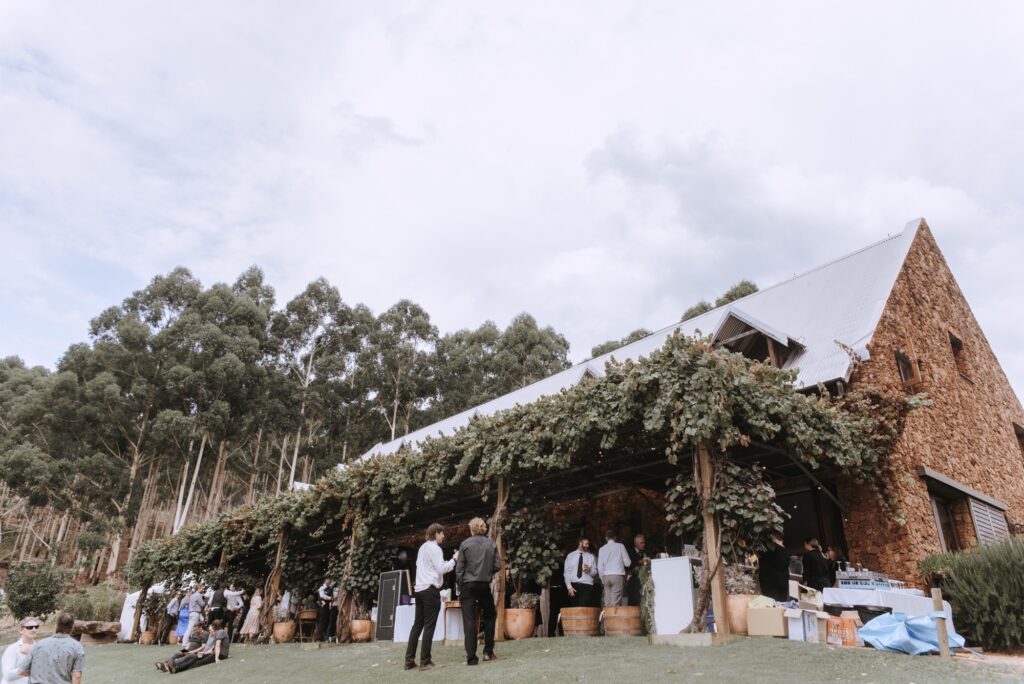 They loved that they could hire the entire estate for 3 nights giving them the freedom to do what they liked throughout their stay there and that there was no cut off time on the wedding night. They arrived on Saturday morning, the day before the wedding to set up, then they headed into Pemberton for a pub dinner with all of their family and friends.
As their ceremony was not until 2pm on the Sunday, Hope had all morning to get ready and have her hair and makeup done. Her makeup was done by Jayne MUA who flawlessly gave Hope the natural/not natural look. Her hair was done by Radiant Hair Design who skilfully achieved the difficult task of creating an up-do that Hope could easily brush out for the reception.
Their ceremony was conducted by a family member at the Upper Clearing, they used the Stonebarn benches and Lara (the botanial stylst from BOS Tents & Events) created a sensational floral structure that blended perfectly with the environment. Hope reminisces "I can remember clearly holding Kim's hands, the smell of all those beautiful flowers in the air surrounded by all those tall trees and the beautiful landscape. It felt like a taste of perfection." She adds "my experience with with Lara still makes me feel emotional, her passion and dedication to her brides is second to none and she lifted the whole experience to another level for me, I'm forever grateful."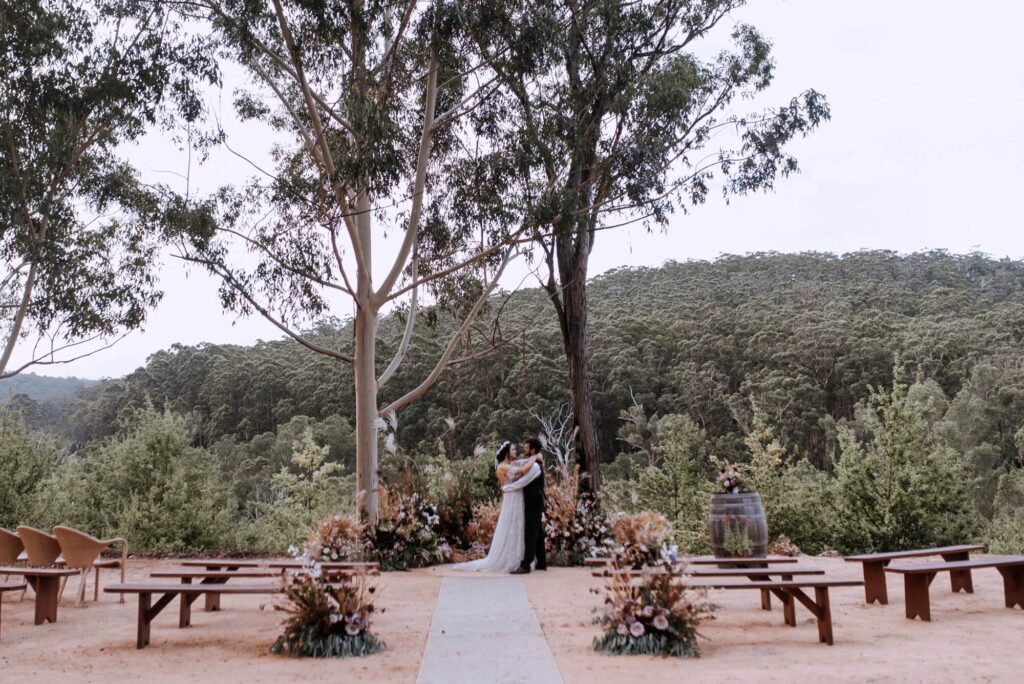 They held their reception on the verandah with cocktail service food by The Local Native. Everyone raved about the food, it was definitely a highlight of the night. Hope commends them, saying "Dan, Sarah and their team's talents are out of this world." She was also lucky enough to have a family member to make her cake.
The verandah is a perfectly sized space that can be sectioned into chill-out areas, dance floor, bar and anything else your heart desires. It is incredibly beautiful in the daylight and just as gorgeous at night. It is truly breathtaking and yet feels cosy and comfortable. The great colletion of furniture pieces set up on the verandah was supplied by Hire in Style and Albany Event Hire.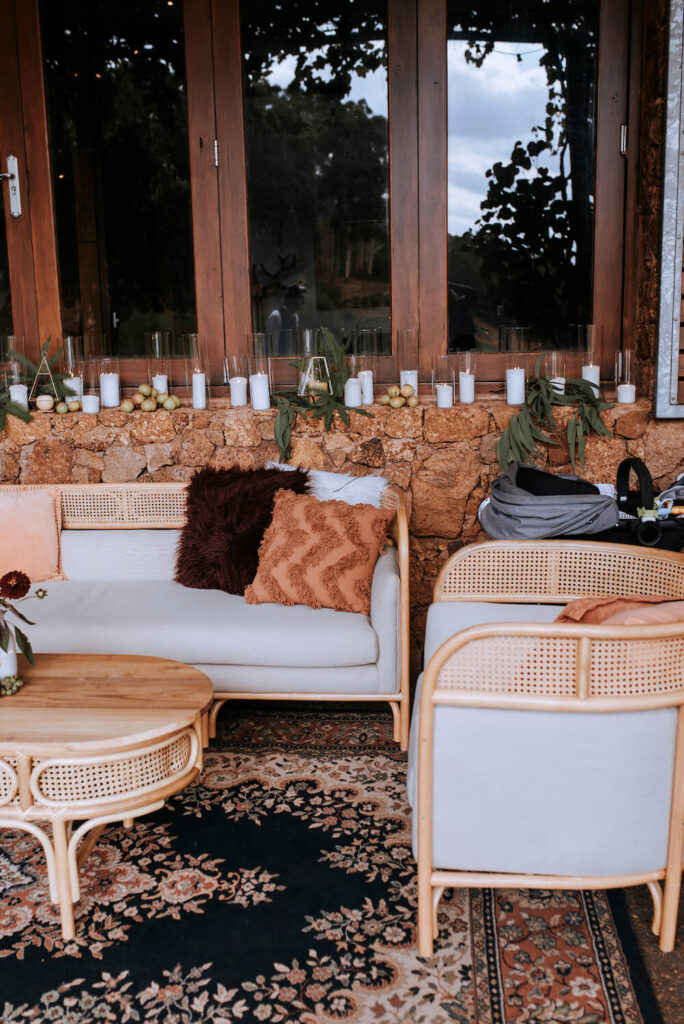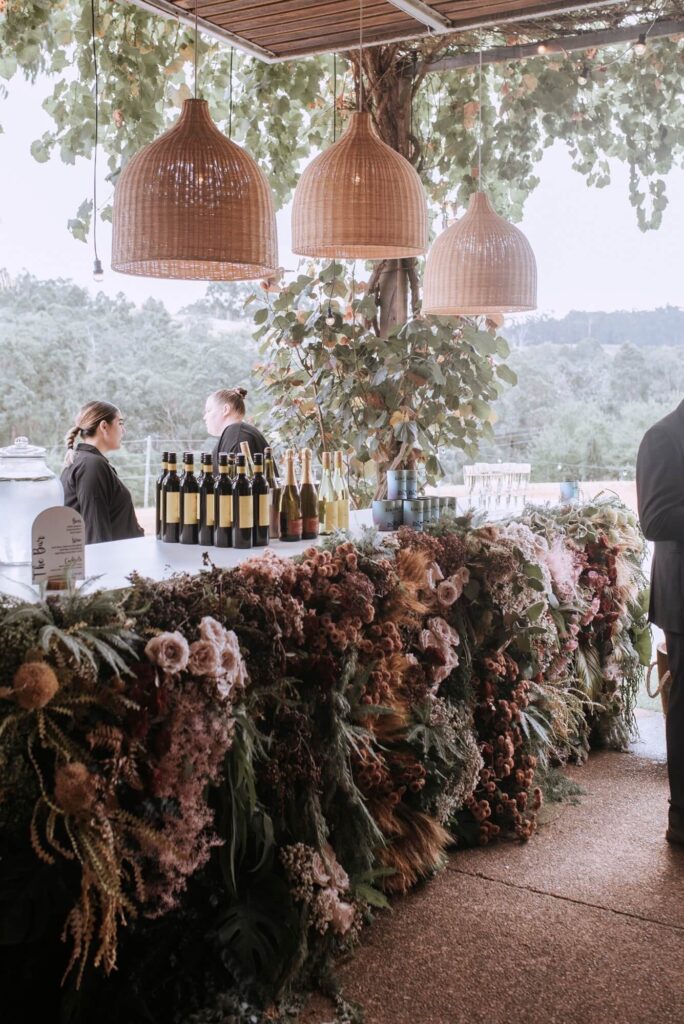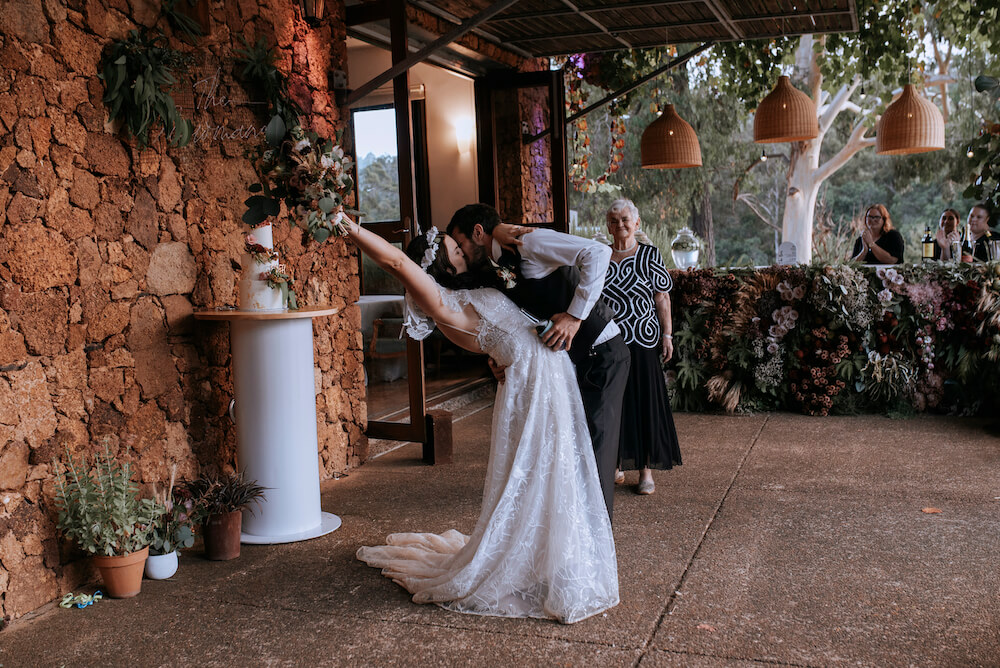 They also utilised the gazebo for the groomsmen the morning of the wedding and also for the bridal party to have a couple of drinks and some food before their reception entrance.
Their organised photos were taken down by the river which was a beautiful place to take a breath with their bridal party between the ceremony and reception.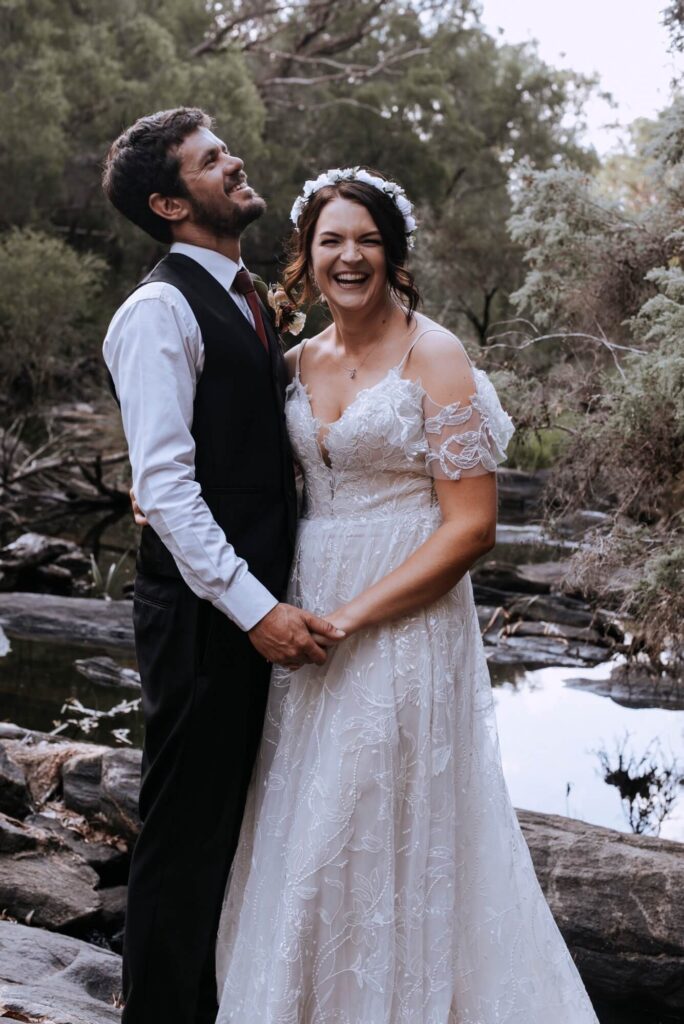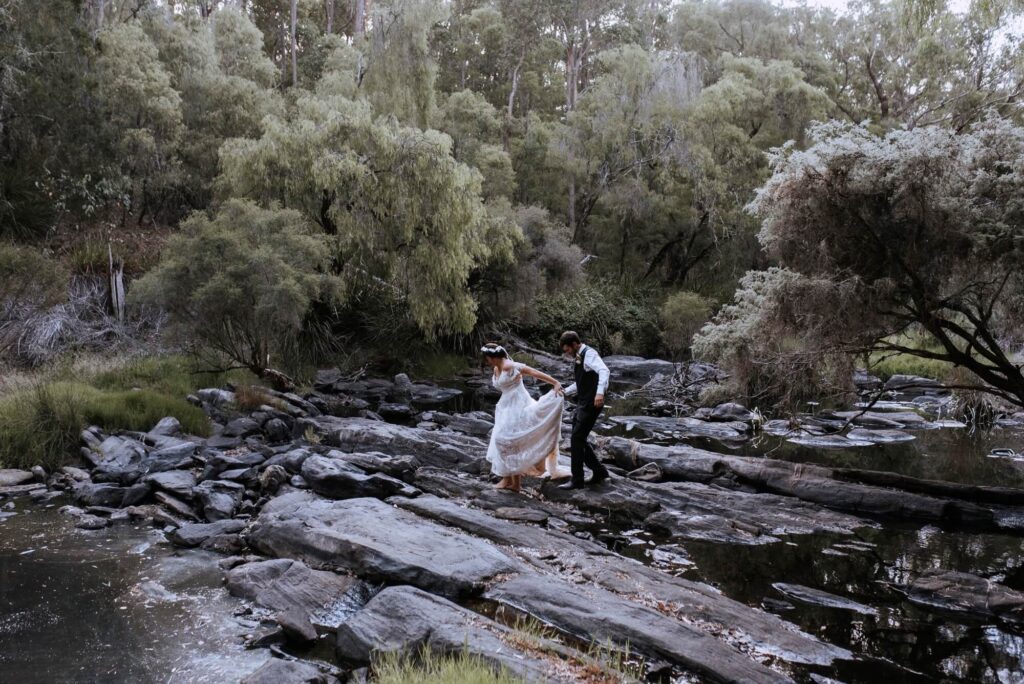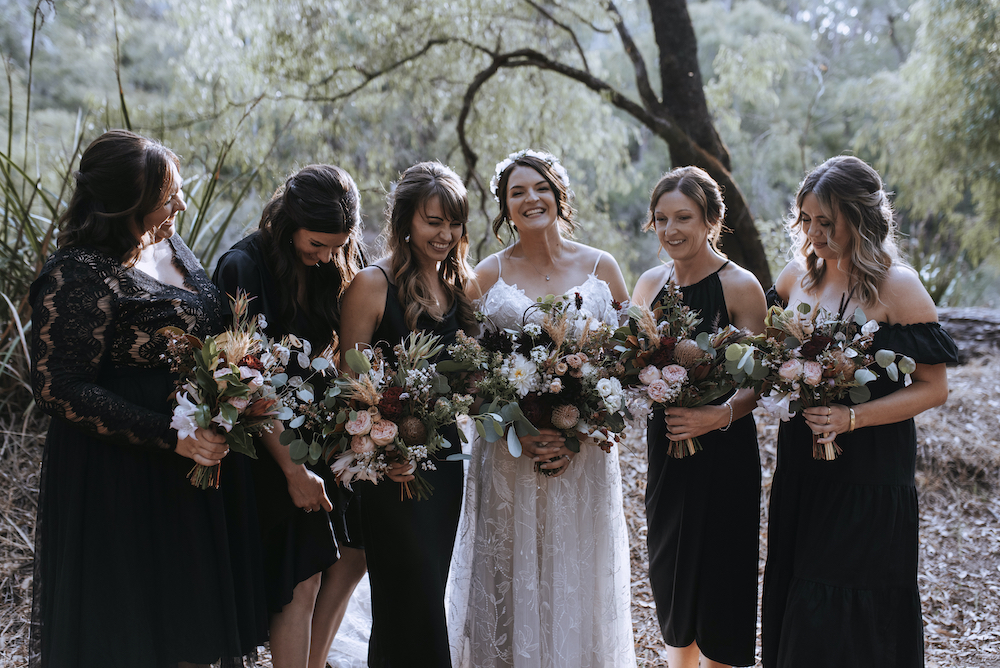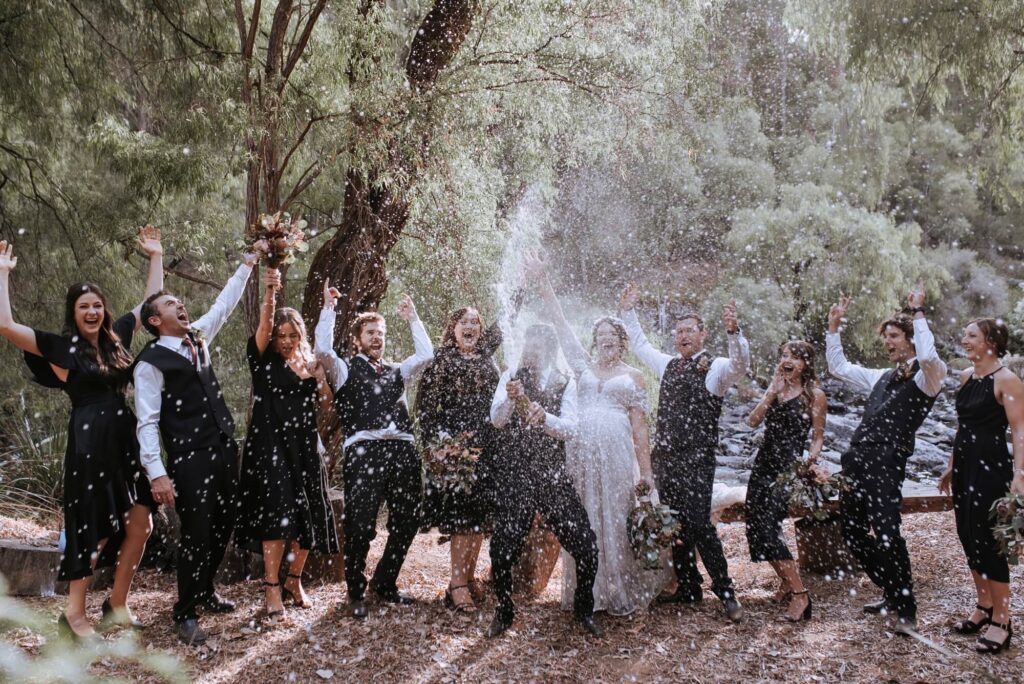 They also hired a photo booth from Mirror Booth Co. This is an amazing addition to any wedding, the concept is fantastic – they man the booth making sure it all runs smoothly and they ensure everyone sticks their pictures in the wedding guestbook.
The band they hired, Dig The Dust, were a dream to work with as they have a massive range of music to choose from (they even made Hope's own wedding ceremony entrance music!) and they guarantee a full dance floor.
Like most weddings at Stonebarn, Hope organised for Warren Bus Service to drop off and pick up their guests. They had quite a task rounding everyone up to get on the bus at 12.30am but they were so patient and great fun!
Hope: "The whole process with Stonebarn has been amazing and I really can't recommend it enough. Abbe has been fantastic to work with answering any and all questions along with a true desire for your wedding to be the best it can be. I don't think there's a better option out there."
Thank you so much Hope and Kim for sharing your Stonebarn wedding experience with us. We wish you a lifetime of much love and happiness together.